Nachdem ich auch dieses Jahr meinen virtuellen Beitrag für den Adventskalender der Hobbyschneiderin "abgeleistet" habe fand ich meine Anleitung vom letzten Jahr… sie war nur einen Tag im Netz zu sehen, also hat sie vielleicht noch nicht jeder?
After I wrote my this years article for the "Adventskalender" of the Hobbyschneiderin I remembered my tutorial from the last year. It has only been on the internet für 24 hours and never in English. So maybe someone likes this very quick and easy idea to create nametags for christmas-gifts?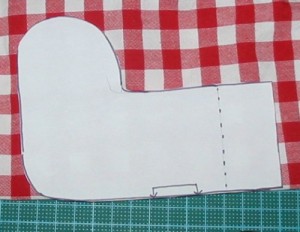 Ich plane ja jedes Jahr ausführlich Weihnachten, um dann in letzter Sekunde noch was zusammenzuwursteln. Diese Geschenkanhänger entstanden vor zwei Jahren am 23. Dezember (nachts) und jede Hobbyschneiderin hat alles Nötige dafür im Haus: Papier, Stift, Stoffreste, Schere oder Rollschneider, Nähgarn und evtl. Stickgarn, wenn vorhanden.
I'm great in planning Christmas but somehow the result is always a last minute crafting… These gift-tags were made two years ago, the night before Christmas. (In Germany that means the 23 of december…) You need paper, pencil, some scraps, scissors or Rollercutter, thread and if you have embrodery thread. So only things that any sewer has at home, important for last minute projects…
Zuerst zeichnen wir uns einen Stiefel in gewünschter Größe auf Papier. Einfach zuerst mit dem Lineal die Konturen eines eckigen, dicken "L" malen und anschließend die Ecken abrunden. Das Schnitteil etwa 5mm breiter und knapp 3 cm cm höher als der fertige Stiefel sein soll zeichnen. (Oder das Photo entsprechend groß ausdrucken und meinen Stiefel verwenden. Das Raster der Schneidmatte zeigt die Originalgröße ja gut. Das Originalschnitteil habe ich Ostern aufgeräumt weil Besuch mit Kindern kam und da ist es auch noch. Ich weiß nur nicht mehr wo. :o) )
First you take the paper and draw the shape of a "L" with the help of a ruler. Then you cut the edge round and you have a perfect stocking. The pattern should be 5mm larger and about 3 cm higher that the finished stocking.
Danach das Schnitteil im Stoffbruch auf einen bunten Webstoff legen. Feste Baumwolle geht am besten. Ich hatte da noch einen Rest von einer Schürze… Im Stoffbruch zuschneiden.
Then you take a nice piece of fabric from your "collection", any woven will do, firm cotton is the easiest choice. If you have any christmas-prints… great! If not… (like me…) take anything you like. Mine was the leftover of an apron. Another christmas gift some years earlier…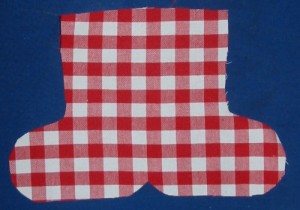 So sieht der zugeschnittene Stiefel dann aus. Jetzt wird er rechts auf rechts im Stoffbruch gefaltet und zusammengenäht. Oben bleibt er offen. Ich habe mit dem Overlockstich der Nähmaschine genäht, der braucht etwa 5mm Nahtzugabe. Einfacher Geradstich oder Zickzackstich tun es aber auch. Wer eine breitere Nahtzugabe als 5mm verwenden will, muß beim Zuschnitt noch etwas zugeben, sonst wird der Stiefelschaft zu eng und läßt sich nicht mehr gut wenden.
Aber das kommt später.
Zuerst wenden wir die obere Stiefelkante um knapp 3 cm nach außen, also auf die linke Seite, die ja noch außen ist. Und nähen diese Kante mit kontrastfarbenem Näh- oder Stickgarn fest. Ich habe dazu Zierstiche und das einfache Alphabet der Maschine benutzt.
Wer eine einfache Maschine ohne Zierstiche hat, kann mit einem engen Zickzackstich auch einen schönen Effekt erzeugen. Auch zwei durch die gleiche Nadel laufenden Fäden oder ombriertes bzw. Multi-Color-Garn sind gut geeignet.
That's how the cut fabric looks. You fold it along the fold, right sides together, and just sew from the bottom to the top. Leaving the upper side open, of course.
I've been using the "serger-stitch" of my sewing machine, which needs 5mm seam allowence. Straight stitch or a zigzag stitch are other options. If you use a serger you might need more allowence, so don't forget to add it, elseway turning the stocking might become difficult if not impossible… But turning will be later.
First you hem the stocking. For that you turn the 3cm hem allowance on the top outside (the stocking is still right side in) and hem it with any decorative stitch of your machine. I used the alphabet to write the names. If your machine has no embroidery-stitches use ebrodery thread and satinstitch, try variegated threads or thread the needle with two threads. Just experiment…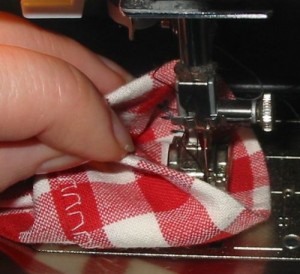 Die Frage die sich hier meist stellt ist: Wie soll das gehen? Die Öffnung ist doch viel zu eng um sie über den Freiarm der Maschine zu ziehen?
Das Bild zeigt es: Gar nicht.
Der Stiefel ist ja noch auf links gedreht, die rechte Seite also innen. Und wir stecken den Nähfuß einfach hinein und nähen in der Öffnung. (Das ist auch gemeint, wenn davon die Rede ist, daß der Nähfuß der kleinste Freiarm der Welt sei. 😉
Here the not so experienced sewer (the others know… I haven't invented the technique, of course!) usually asks: How can I do this? The opening is too small to pull it over the free arm.
Well, it's the presser foot the opening will turn around.
Remember, the right side of the finished stocking is still inside. So you just put the presser food in the opening an sew… works always, even on flatbed machines. (I never really understood what free arms are good for…. 😉 )
Wer es noch einfacher haben will kann natürlich zuerst den Saum nähen und danach den Stiefel zusammen. Aber dann sieht man oben die Naht vorspitzen und das wollte ich nicht.
Of course you can first make the hem and then sew the stocking. But then the seam will remain visible on the top of the stocking and I didn't like that…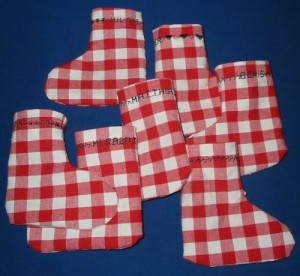 Nur noch wenden und fertig ist ein Geschenkanhänger. Man kann noch eine Praline hineinstecken, oder einen Gutschein oder auch nicht. Dann einfach mit dem Geschenkband (das schon um das Geschenk gewickelt ist) zubinden und zwar so, daß der Name lesbar bleibt.
So entsteht auch kurz vor der Bescherung noch rasch eine kleine Stiefelherde. Und ein Stoffrest war aufgebraucht.
Last step is to turn the stocking inside out, and that's it.
You can fill it with a little chocolate, another sweet,… or not. Then you use some cord or thread or yarn to tie it close. And attach it to the gift.
It's done really quickly, so I could produce a whole bunch of it only hours before "Bescherung" (that's the moment when everyone is allowed to open the gifts).
And I there was one piece of fabric less in my "collection"…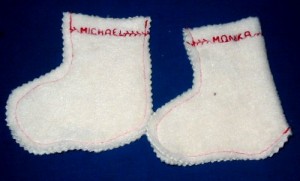 Wer eher Fleece oder Filz übrig hat kann auch die Variante auf dem letzten Bild nähen:
Das Schnitteil wird nicht im Stoffbruch aufgelegt sondern rundum mit Nahtzugabe zugeschnitten. Am besten mit einer Zackenschere.
Die Saumzugabe entfällt.
Dann kommt zuerst eine Reihe Zierstich (in meinem Fall mit Namen) auf die obere Kante und anschließend werden die beiden Einzelteile links auf links zusammengelegt und mit einem nicht zu kurzen Steppstich von rechts an der Kante zusammengenäht.
Und schon ist die flauschige Variante fertig!
If you have leftovers of fleece ar felt ore some other nonraveling fabric you can try the version of the last picture:
You cut the pattern not on fold, but as two single pieces with seam allowance on all sides. Using your pinking shears gives a nice effect.
And you cut the pattern minus the hem allowance.
This time you sew the name to the border of the stocking first, then you put the two pieces left sides together und you sew around the edge from the right side.
Just straight stitch, stitch length not to short.
That's all for a soft version… 😉