Ich hatte mal wieder fast ein ganzen Knäuel Wolle von Tortora übrig und Lust auf noch eine graue Mütze. Es schwebte mir was leichtes vor, lässig und eher slouchy, mehr für die Übergangszeit als für den Winter. Und nachdem ich das angefangene Knäuel, das natürlich nicht mehr genug für eine Mütze war, einige Wochen auf dem Schreibtisch ständig vor meiner Nase hatte machte es "Pling".
Again I had a nearly whole skein yarn left over (from Tortora) and I felt like yet another grey hat. I wanted something airy, slouchy, nor really for winter but for cool autumn and spring days. The "I am not enough for another hat" skein sat on my desk for some weeks and while I was staring at it nearly every day the inspiration hit me.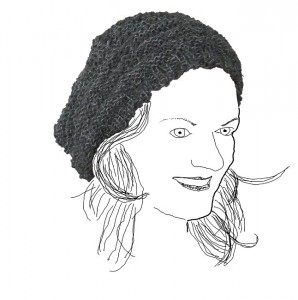 Ich hatte doch noch einen Rest Lace Garn, auch Alpaka, in der gleichen Farbe! Und damit das grau nicht zu langweilig wird… da war doch noch der M30 Zierfaden von Alterfil in silber… steht nirgendwo, daß man mit Nähgarnen nicht auch stricken darf, oder? 🙂 (Die anderen beiden Garne, "Alpaca Andes" von katia und "Alpaca 1" von Isager gibt es bei der Maschenkunst. Daß die Farben so exakt passen ist natürlich Glück.)
Didn't I have another left over in grey alpaca from a lace project? And since grey alone might be a little dull I dug into my sewing threads and came up with some metallic silver M30 Zierfaden by Alterfil. There is no law against knitting with sewing thread, isn't it? (The other yarns, "Alpaca Andes" by katia and "Alpaca 1" by Isager can be purchased at Maschenkunst. That the colors match perfectly was a nice coincidence.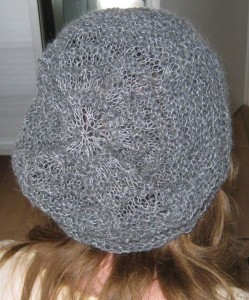 Dann noch ein paar Abende mit einem Nadelspiel in 5,5 gearbeitet und fertig war die Mütze. Dichte und transparente Streifen wechseln sich ab, genau wie ich es wollte.
(Für Mützen sollte ich mir allerdings endlich mal ein Spiel mit langen Nadeln in der Stärke besorgen. Auf den kurzen war es doch etwas lästig…)
Add some evenings with a set of 5.5mm dpns and the hat was finished. Alternating dense and transparent stripes, exactely how I wanted it.
(Next time I'm knitting a hat with this needle size I should not forget to buy long dpns. Knitting the thick yarn on the short needles was not so nice.)
Und wie oft habe ich auch diesmal die Anleitung aufgeschrieben, es ist wirklich ganz einfach und schnell gemacht: Anleitung für "Dark Glam".
(Wie immer für den privaten Gebrauch kostenlos, für alles andere vorher fragen. Der Verkauf von nach diesen Anleitung gefertigten Artikeln, der Verkauf der Anleitung selber oder die Verwendung der Anleitung in Kursen sind selbstverständlich kein privater Gebrauch mehr. Außerdem ist es mir lieber, wenn ihr den Link auf die Anleitung hier im Blog weiter gebt, statt einfach Kopien zu machen. Danke!)
And here is the pattern, it's really easy: Pattern for "Dark Glam".
(Like always: The pattern is free for private use. Anything else: just ask before. Selling items made after this patter, selling the pattern or using the pattern for classes are not considered private use. If you like the pattern and want to pass it on I prefer if you pass the link to the pattern in the blog, instead of making copies. Thank you!)