Very fast fingerless mitts
Zumindest theoretisch, wenn man statt Maschenprobe erst mal eine Stulpe mit doch etwas zu kleinen Nadeln strickt, dann dauert es etwas länger.
At least theoretically. If you skip the gauge and knit one mitt with to small needles instead then it takes a bit longer.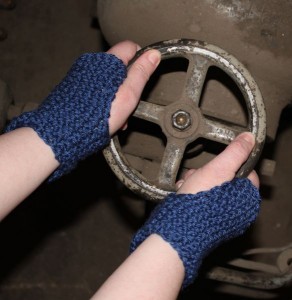 Ich hatte ein Knäuel "Joana" von Schachenmayr nomotto. Von dem hatte ich so ein- oder zwei Meter gebraucht, um einen Mütze fertig zu stricken. Also suchte ich was für das dicke Garn mit der eher kurzen Lauflänge.
I had one skein of "Joana" by Schachenmayer nomotta left. I had needed a bit more than one meter to finish a hat and was left with one not even full skein of a thick yarn with not to much meterage.
Und da fand ich bei ravelry dieses Modell: Bofur's fingerless Gloves von Anya Lowery. Was mich fasziniert ist, daß dies wirklich die einfachste Konstruktion eines Handwärmers ist: Perlmuster, ein Schlitz für den Daumen… und es funktioniert! Die grobe Optik gefällt mir sehr gut. Dadurch daß die Finger und der Daumen weitgehend frei sind, kann man auch gut arbeiten. Die sollten eigentlich auch gut sein, um im Winter am Computer zu tippen. Dabei bekomme ich nämlich auch gerne kalte Finger. Ich gehe allerdings davon aus, daß ich das diesen Winter nicht mehr testen werde…
And then I found the Bofur's fingerless Gloves pattern by Anya Lowery on ravelry. I am very fascinated by the extreme basic construction principle: Seed stitch, an opening for the thumb…. done. I like also the look a lot. Fingers and thumb are mostly free, so great to do some work. And they should be useful to type on the computer on cold winter days. I tend to get cold hands from this. But I do not think I will have to test it this winter...
Einziges Problem: Es ist immer noch Garn übrig… das war nicht so geplant.
Only problem: There is still some yarn left… that was not the plan.