Golden Scrap Flowers
Auch von meinem Citron Tuch waren ja neun Meter Garn übrig geblieben. Ich wollte ja mal was anderes draus machen, aber die Anzahl der Anleitungen, die mit so wenig Garn auskommen halten sich wirklich schwer in Grenzen.
There were 9m yarn left from my Citron shawl. I was searching ravelry like crazy, but the number of patterns you can do with that bit of yarn is really few.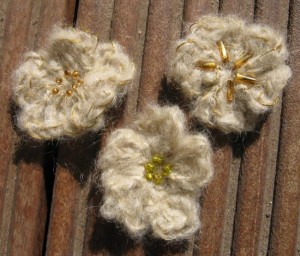 Also bin ich wieder bei der bewährten Scrap Flower Daisy von Kristin Mullen gelandet.
So I ended up again with Scrap Flower Daisy by Kristin Mullen.
Da mein Garn (Lana Grossa Babykid) ja keine fröhliche Blütenfarbe hat, habe ich ein wenig Gold mitlaufen lassen. Bei den zwei oberen Blüten war es M30 von Alterfil, bei der unteren der feine Stickfaden, auch von Alterfil. Weil das Ergebnis dann immer noch nicht sehr nach Blümchen aussah, habe ich noch mit verschiedenen Perlen gearbeitet. Jetzt geht's, für eine Resteverwertung.
My yarn (Lana Grossa "Babykid") did not have a typical color for flowers, so I decided to add some gold. The two upper bloom have added M30 by Alterfil, the lower one a fine embroidery thread also by Alterfil. Since I still was not happy with the result I added some beads. Now it's okay, considering that it was made to use up my scraps.