And again blue en minature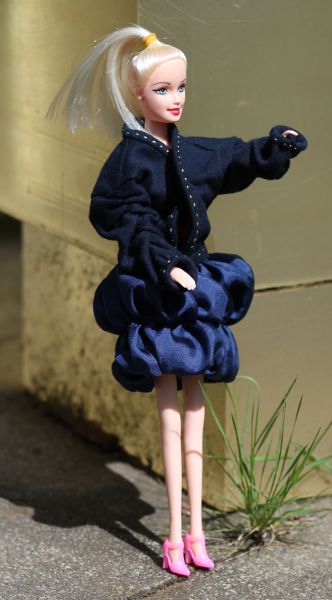 Natürlich gab es aus den Resten des Rockes auch noch was für die Ankleidepuppe. Aus dem Rockstoff eine Blousonjacke, aus der Seide von den Versäuberungsstreifen wurde der Ballonrock und dessen Futter ist aus dem Futterstoff. Da das gelbe Stickgarn noch griffbereit lag, habe ich noch ein paar Zierstiche an Jacke und Rock dazugefügt.
The leftovers from the skirt also made a doll outfit. The skirt fabric became a blouson, the silk from the bias binding a skirt and the lining… lining again. Since the yellow embroidery thread was still at hand I added some stitches to jacket and skirt.
Die Anleitung ist wieder aus dem alten Burda Barbieheft und auch hier zeigt sich die Tendenz, daß zumindest die Jacke an den Schultern recht groß ist, (Wobei der Blouson im Heft am Ende auch mit einem Gürtel gerafft wird…) An der Taille hingegen ist die Jacke eher eng. Künftig etwas weniger Nahtzugabe anschneiden oder in eine "echte" Barbie investieren um zu sehen, ob es an der Billigpuppe liegt? (Es gibt ja eine für knapp 7 EUR, die aber wiederum wohl nur im Versand mit entsprechender Versandgebühr. Was dann nur für die Anprobe auch wieder etwas viel ist.)
The pattern is again from my old Burda Barbie issue and again the finised item is a little large on the shoulders. (Okay, the jacket on the original photo is also held together with a belt.) On the other hand at the waist it fits more snug. Shall I try to cut smaller seam allowances or will I have to invest in an original Barbie doll to see if the problem is the cheap fake doll? (There seems to be a "real" one for a little less than 7 EUR, but it also looks as if this one was sold exclusively by the internet, so there would be shipping costs. So all in all it would be a bit exagerated just for trying on.)