Enlarging a top with flat felled seams (*bah*)
Meine endlose Wickelbluse habe ich ja im August das letzte Mal gezeigt. Inzwischen bin ich endlich weiter. Ich habe die Seitennähte aufgetrennt und Spitze aufgenäht. Allerdings hat die Spitze Löcher. Ein Transparenteffekt ist ja schön, aber wenn dann der Wind reinpfeift und der BH sichtbar ist, dann ist das weniger erfreulich. Also mußte vor dem Aufnähen der Spitze die Bluse erst mal mit einem Einsatz erweitert werden.
My endless wrap top was shown in august for the last time. Now finally there is some progress. I've ripped the side seams and added lace. But lace has holes. And a transparency effect is nice, but having the wind blowing and and showing my bra less. So before I could sew on the lace, I needed to make inserts to cover the gap.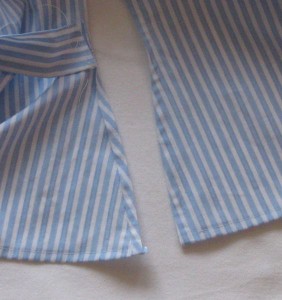 Der Haken bei der Sache ist, daß ich schöne Kappnähte gemacht hatte. Wenn man die auftrennt, hat eine Seite kaum mehr Nahtzugabe. Außerdem soll es hinterher ja auch wieder von beiden Seiten halbwegs "nett" aussehen, einfach nur die Nahtzugaben versäubern war nicht der Plan.
Problem is the top was mostly sewn with flat felled seams. So when you rip whose one side has hardly any seam allowance left. And since the rest of the top is inside (nearly) as nice as outside just sewing and overcasting the edges would not do.
Nach dem Auftrennen hatte ich dann eine Nahtzugabe auf die linke und eine auf die rechts Stoffseite gebügelt und eigentlich sehr schöne, saubere Kanten. Die wollte ich so auch behalten.
After ripping the seam I had one seam allowance turned to the right side of fabric and one to the left side of fabric. And already very nice and clean fabric edges. Which I intended to keep.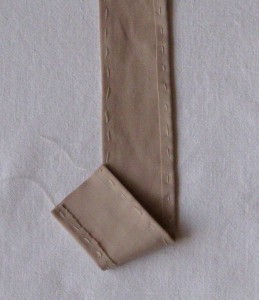 Also habe ich Streifen aus einem hautfarbenen Dessousstoff geschnitten. Auf jeder Seite die doppelte Nahtbreite der Kappnaht zugegeben und dann die halbe Breite der Kappnaht umgebügelt.
So I cut stripes of a tan colored underwear fabric. I added twice the width of my flat felled seam to both sides and then turned under half the width of the flat felled seam on each side.
Und zwar auf einer Seite nach oben, auf der anderen nach unten. (Da bügeln auf dem Dessoustoff nicht lange hält, mußte ich heften.)
On one side I turned the seam up, on the other side down. (Ironing does not create a lasting crease on that kind of fabric, so I had to handbaste it.)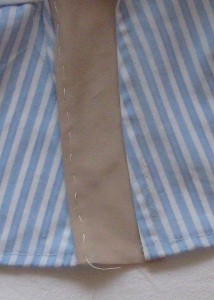 Dann wird diese Streifen auf der einen Seite auf den Stoff gelegt, auf der anderen unter den Stoff. So daß jeweils die umgebügelten und unversäuberten Nahtzugaben aufeinander liegen und zwischen den Bügelkanten sauber eingeschlossen sind.
Now I've positionned the fabric stripe so, that one side is on the fabric of the top and the other one is under the fabric of the top. The raw fabric edges meet and are enclosed nicely between the ironed/ folded edges of the fabric.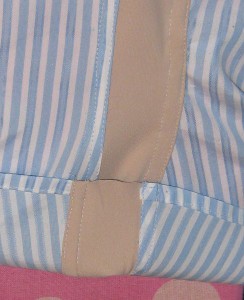 Dann habe ich das festgenäht. wieder mit zwei Nähten, eine an der Stoffkante meines Einsatzstreifens und für die zweite habe ich mich an den Stichen der ursprünglichen Kappnaht orientiert.
Then I've sewn the insert to the to. Each side with two rows of stitching, one close to the turned under fabric edge, for the other one I've used the still visible original stitiching as a guide.
Da der Dessoustoff dicker ist als die Popeline und auch sehr dehnbar, sind die Nähte nicht ganz so ordentlich wie die ursprünglichen Kappnähte geworden, aber es sieht von beiden Seiten halbwegs nett aus und auf der rechten Seiten wird ja noch die Spitze drüber genäht. Da sieht man das eh nicht.
The insert fabric is thicker than the popelin fabric and also quite stretchy, so I did not manage to get as even seams as they originally were, but it looks sufficiently nice and clean from both sides and on the right side I'll applique the lace on top, so it won't be visible.

Die anderen Herausforderung war dann, denn Ärmel wieder einzusetzen. Unter dem Arm ist die Nahtzugabe auch auf etwa 5mm zurückgeschnitten und meine Einfassung war natürlich nicht lang genug. Da ich keine Lust hatte, das alles aufzutrennen, abe ich einfach ein Stück Schrägband zwischengeflickt… Nicht mehr ganz so schön, aber hält.
The next challenge was to reinsert the lower part of the sleeve. The seam allowance there was cut back to around 5mm and the origninal binding there had some overlap, but not enough to cover the gap. I was not motivated to remove all of the binding, so I just inserted a bit of bias there, too. Not as nice as it used to be, but it will do the job.
Die nächste spannende Frage ist dann…. wird die Bluse jetzt passen?
Next question…. will the top fit now?