The hard pre-Christmassy truth or why my blog will never become a much searched for chique style blog.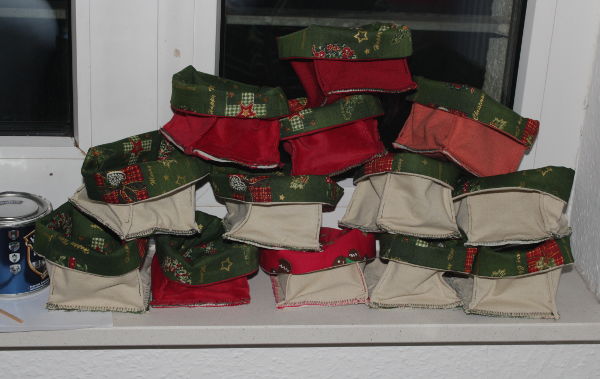 … oder warum mein Blog nie ein super beliebtes, schickes Style Blog werden wird.
Ja, in den Blogs sieht man allenthalben die genähten, gestrickten, gebastelten Werke, anmutig mit Tannenzweigen, Strohsternen, Kerzen oder Elchtischdecken arrangiert. Gemütlichkeit verbreitende Photos…
Yes, everywhere in Blogworld you see those crafted products, presented lovingly amongst green twigs, golden stars, candles or on rendeer themes table cloths, showing a cosy world…
Dafür habe ich leider im Dezember einfach keine Zeit. (Ein heftiger Virus seit einer Woche machte das nicht besser, zumal ich zumindest meine Kundentermine noch wahrgenommen habe.) Immerhin habe ich es noch geschafft, meine kleinen "Boxen" zum Kekse und so verschenken fertig zu bekommen. (Die Kekse kamen in kleinen Zellophantütchen rein.) Aber da war nichts mit Kerzenschein und Tannenzweig, die Vorstufe hatte ich hier schon gezeigt, da wurde als Produktionsstraße an der Nähmaschine gearbeitet und die fertigen Boxen dann da aufgestapelt, wo Platz war und ich mit einem Griff hin kam. Das war das Fensterbrett.
Sorry, but in December I have no time for that. (A heavy virus since last Saturday didn't improve the situation. Even less since I did not cancel any of my clients because there is no replacement…) But I managed to finish all my "boxes" to give away cookies and chocolates. (I put the cookies in small cellophane bags which sat in the boxes.) But there are no fir twigs, no candles… (I'd shown the in between stage here.) … but a production street on the sewing machine and putting the finished boxes at the next available space within reach. Which was the window sill.
Da die ersten Boxen schon verschenkt waren, als die letzten fertig wurden für die Statistik: Es waren 16. 15 waren geplant und mit einem Boden aus Bosal "In-R-Form" zugeschnitten, dann kam noch ein Probestück von einem ähnlichen Vlies von Freudenberg, das ich ebenfalls zum Vergleich verarbeitet habe. (Urteil: weniger stabil und für den Zweck etwas weniger geeignet.)
The first boxes had already been gifted when the last ones were finished, so for my statistics: It were 16 boxes. 15 had been planned and the bottom was cut from Bosal "In-R-Form". Then I got a sample of a similar product by Freudenberg and made one more box to compare. (Result: The Freudenberg product is a bit less stabile and a bit less suited for that purpose.)
Ein paar sind (wie jedes Jahr) noch übrig, der Rest durfte schon Freude bereiten. 🙂
Some are left (like every year) the rest has been given an made people happy. 🙂