New mobile phone, new case….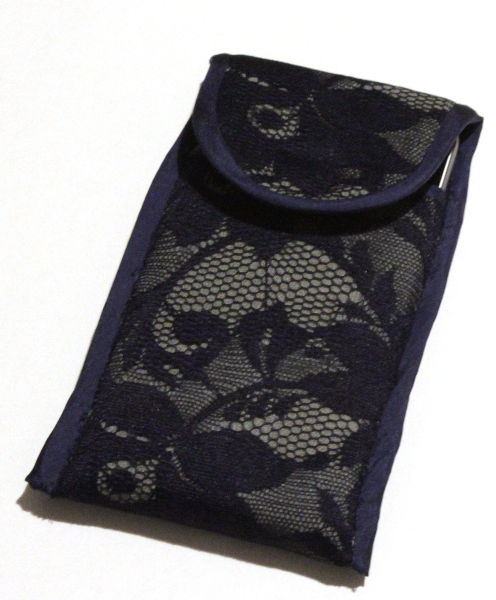 Nachdem mein Smartphone wegen hoffnunglos veralteter Software weder Bahntickets, noch Tickets der örtlichen Verkehrsbetriebe kaufen konnte, war es Zeit für ein neues Handy. Und da das Format anders ist, auch für eine neue Hülle.
The android of my smartphone was so old that I could neither buy train tickets nor tickets for the local transport system, so it was highest time for a new phone. Which has a different size from my old one, so I needed a new case also.
Wie meistens für so kleine Projekte habe ich Reste benutzt, grauer Wollstoff einer Hose mit etwas blauer Spitze darüber. Das Innenleben ist wieder Seide (weil das den Bildschirm automatisch reinigt), die Paspel außen auch. Geschlossen wird es mit Klettband. Zur Polsterung habe ich wieder Bosal In-R-Form Plus verwendet, das von beiden Seiten aufbügelbar ist. Machte die Verarbeitung sehr einfach und es gibt eine ausreichende Polsterung sowie ein wenig Stabilität. Besser als beim letzten Mal, wo ich Volumenvlies verwendet habe.
I used remnants as I normally do for such small projects. A grey woolen fabric from pants combined with some blue lace. Inside I used silk (which helps to clean the display automatically), the binding outside is the same fabric. The closure is some Velcro-type-tape. The fabric layers have Bosal In-R-Form Plus fused between. Made sewing easy and it gives the right amount of cushioning and some stability. I like it better than my last version where I used batting.