Fresh on the needles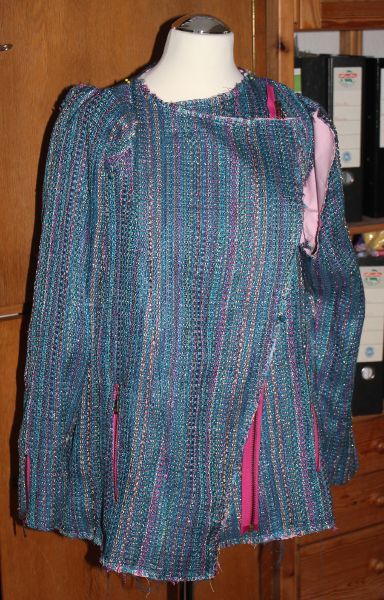 Genäht habe ich schon seit etwa einem Monat nicht mehr. Leider sind die Jackenteile auch nicht schon zusammengenäht, sondern nur auf die Puppe gesteckt. Was immerhin in so weit hilfreich ist, daß ich mich entschlossen habe, noch eine kleine Schulterstütze aus Seidenorganza einzuarbeiten. Auch die Taschenbeutel fehlen noch, dann kann ich die Teile endlich zusammen nähen.
It is about one month that I didn't sew anything. The parts of my jacket have not been sewn together, I just pinned them to my dress form. Which was kind of helpful, because it helped me to decide that I want a bit of a shoulder interfacing from silk organza in the fronts. Then also the pockets are missing, then I can finally assemble the parts.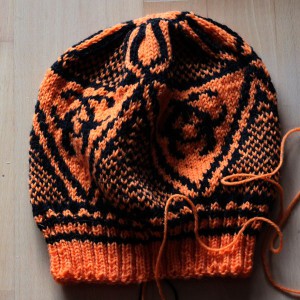 Da Weihnachten naht, sind auch einge Geschenke fällig. Da mein Bruder unvorsichtigerweise gemeint hatte, das Muster der Socken von vor zwei Jahren sei doch als Mütze viel besser… na dem kann geholfen werden. 😀
Christmas is approaching, so some gifts need also to be made. My brother had teased me, the pattern of the socks he got two years ago would even be better as a hat… well, he'll get a hat. 😀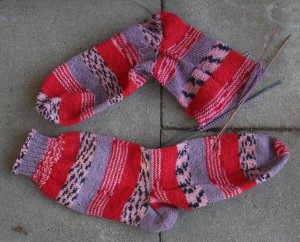 Abgabetermin für meine Obdachlosensocken ist am Montag. Dummerweise habe ich noch zwei Paare auf der Nadel. Diese hier aus Crelando "Anika" "musste" ich anfangen, weil ich das andere angefangene Paar bei meinem Bruder vergessen hatte. Hier fehlt noch ein wenig Schaft und der Bund, das sollte bis Montag auf alle Fälle klappen.
Moday will be the day when our socks for the homeless will be delivered. Problem is, that I still have two unfinished pairs. Those from "Anika" by Crelando I "had" to start because I had forgotten another unfinished pair at my brothers place. Here I only need to be a bit of the leg and the cuff. That should be done by Monday.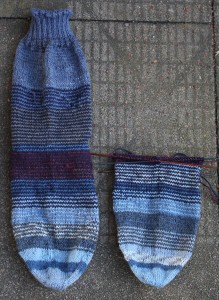 Die Restesocken hat mir mein Bruder inzwischen geschickt, aber hier fehlt noch ein wenig Fuß und der ganze Rest. Mir fällt auf, daß das Abwiegen mit der Küchenwaage doch deutlich ungenauer ist als mit der Briefwaage beim ersten Mal.
The other socks, where I am using yarn leftovers, my brother has sent to me meanwhile. But here the second sock is not even half knitted. I am still before the heel. What I can see from the differences in the colors is, that using the kitchen scale was less precise than the letter scale I had used for my first attempt in that style.
Wenn ich die auch noch schaffen will bis Montag, sollte das Wochenende viel Regen bringen… :o)
If I want to finish those also until Monday there should be a lot of rain… :o)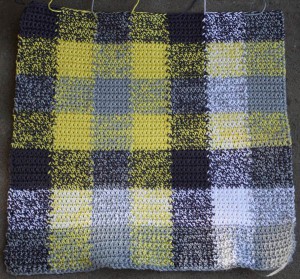 Und weil mir gerade völlig langweilig war, mußte ich noch "mal eben schnell" einen riesigen und komplzierten Topflappen anfangen… Garn ist hier "Camilla" von Woll Butt. Und wenn man ständig ganz viele Knäuel dran hängen hat, dann ist das auch recht umständlich. Der ist aber auch fast fertig.
And since all that was not enough and I felt bored I had to start a "quick" huge potholder in crochet. Yarn is "Camilla" by Woll Butt. And if you have a lot of skeins attached to your crochet project all the time it is a bit messy… but now it is nearly finished.