Flash Overview…
Es gibt ja eine Sache, die  in meinem Blog fehlt und das ist Aktualität. Bis ich meine Sachen endlich mal photographiert und gebloggt habe, sind sie ja schon fast wieder aufgetragen. (Okay, nicht ganz so schlimm… )
There is one thing, my blog is lacking and that is the up to date-ness. Until I have my stuff photographed and blogged, they are nearly outworn. (Okay, not that bad…)
Also gibt es jetzt ab und zu mal einen wirklich tagesfrischen Überblick über meine Projekte, die noch nicht fertig sind.
So from now on I'll give you a fresh overview from ongoing projects, from time to time.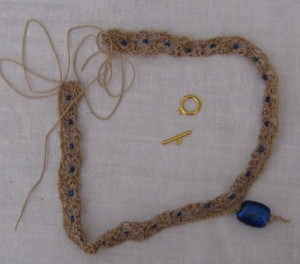 Wir fangen mal mit den Stricksachen an… hier ist ein Halsschmuck, der ein paar Reste aufbrauchen sollte. Der Verschluß muß noch installiert werden.
Let's start with knitting… here is a neckpiece which was supposed to use some remnants. The closure hasn't been installed yet.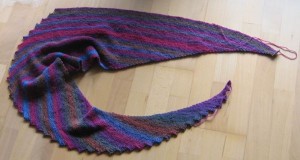 Dann stricke ich gerade etwas, was inzwischen wohl schon jeder gestrickt hat: Einen Hitchhiker. Nur echt mit 42 Zacken. Hier muß noch vernäht werden.
Then I am knitting something that probably everybody else has knitted so far: A Hichtchhiker. Only real with 42 triangles. Here I need to weave in the ends.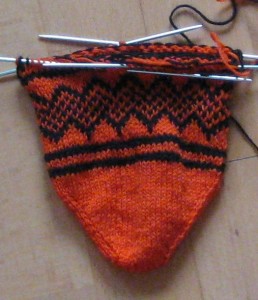 Da Weihnachten naht sind natürlich auch wieder Socken auf der Nadel. Frisch angefangen, aber bis zum Heiligen Abend ist ja noch etwas Zeit.
As Christmas is approaching I have some socks on my needles. Just started, but there is quite a lot of time until Holy Night.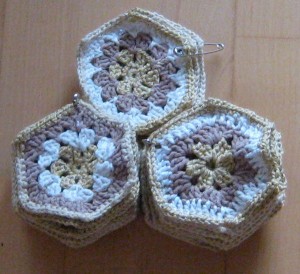 Natürlich habe ich auch weiter gehäkelt. Meine Grannies sind ja aus der ersten Tasche herausgewachsen, es sind inzwischen 262 Hexagons. Hier sind die, die in der zweiten Tasche ihre Platz finden werden.
Of course I did not stop crocheting. My Grannies have outgrown their first bag, now there are 262 hexagons. That is, what is collected in the second batch (and bag) now.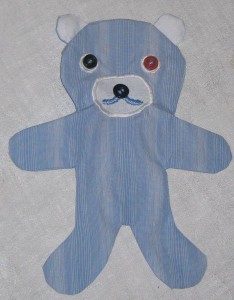 Unter der Nähmaschine gibt es im Moment nur ein gänzlich undramatisches Projekt. Völlig zweckfreies Nähen, ein kleiner Bär ist dabei zu entstehen.
Sewingwise there is only a completely boring project, completely useless sewing. A little bear is about to be sewn.
Und die spannende Frage ist mal wieder: Interessiert das irgendwen? :o)
And the thrilling question is: Does anybody want to read that? :o)