Small(er) Coquille
Nachdem mein Coquille Schal ja doch recht flott von der Hand ging und sich beim Tragen extrem bewährt hat, weil er unter einer Jacke den Hals und die Schultern warm hält und sich sehr schön legt, dabei aber nicht aufträgt, dachte ich, einer als Geschenk sollte auch noch vor Weihnachten fertig werden. Allerdings in der kleineren Größe.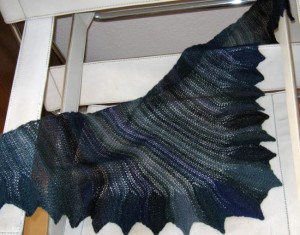 Wie man sieht ist der nach dem Spannen auch noch ganz schön groß geworden.
Since my Coquille Shawl had been knitting quite fast and has proven to be extremely comfortable while wearing (it warms neck, throat and shoulder and sits very comfortably and flat under a jacket) I thought that one more should be possible to do before Christmas. This time the smaller size.
Which is quite big also after blocking.
Gestrickt wieder nach der Anleitung von Mary Lou Egan in knitty, diesmal mit einem 100g Knäuel "Zauberball" von Schoppel Wolle in der Farbe "U-Boot". (Wie so oft aus der Maschenkunst.) Die Farbe kommt auf dem Bild leider nicht so gut rüber.
Genau ein Knäuel von der Wolle zu besitzen ist übrigens für starke Nerven, am Ende waren genau 4g übrig… *uff* Aber meine Schwägerin hat sich sehr gefreut. Sie mag Schals. *uff* Richtig geraten. 🙂
The pattern is again from Mary Lou Egan in knitty, this time I used a 100g ball "Zauberball" from Schoppel Wolle, the colorway is called "U-Boot. (From Maschenkunst, where I buy most of my yarn.) The colors do not come out to well in the pic, sorry.
Knitting with no more than one ball of yarn is for people who like some thrill. 4g of yarn were left at the end… *uff* My SIL loved the gift. She likes scarfs. *uff* Good guess. 🙂