Proudly present: DakshinaChitra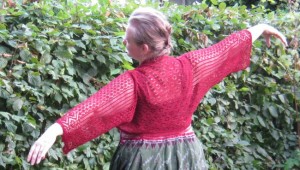 Mein Shrug/Stola ist schon seit einiger Zeit fertig, jetzt kommen auch endlich die Bilder.
Ich bin mit dem Ergebnis doch recht zufrieden.
Er paßt zum Kleid und ist, wie oft bei Lace Sachen aus hochwertiger Wolle, wärmend, obwohl er so dünn ist.
My shrug/shawl is already finished for quite a while, but here finally the pics.
I am quite happy how it turned out.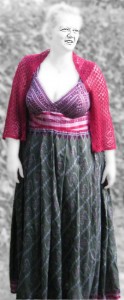 It fit's the dress and keeps surprisingly warm even though it is very fine, as it often the case with lace out of good material.
Ich hatte zuerst etwas Bedenken, daß der Übergang vom ersten auf das zweite Muster doch etwas krass sein könnte, aber dadurch daß der Übergang wie geplant auf der Schulterkugel passiert sieht es doch genau so aus wie geplant. (Das klappt ja nicht immer…)
Größe ist etwa 130 cm x 45 cm. Genauere Maße gibt es in der Anleitung, die kommt demnächst, das Muster aufzuschreiben ist irgendwie doch kompliziert…
First I was a bit afraid that the step from the first to the second part might look a bit abrupt, but since this happens on the shoulder as intended it also looks exactly as I had planned. (Which does not always work…)
Size is about 130 cm x 45 cm. I'll take more precise measures once I will write the pattern. Writing all that down is quite complicated….