50 Shades of Royal Blue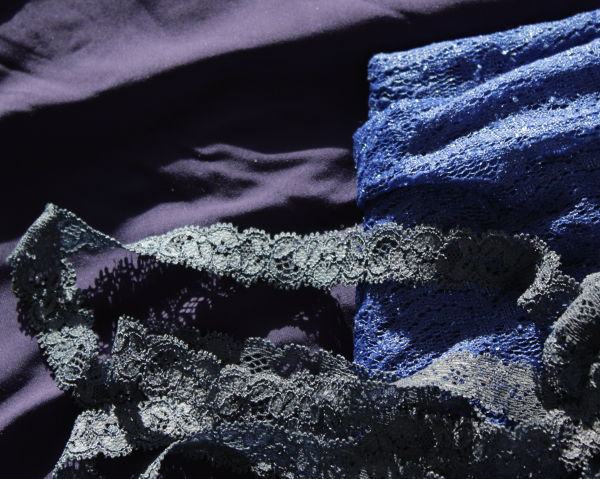 Na gut, ganz so schlimm ist es nicht. Aber doch faszinierend.
Okay, it ain't that bad, but still fascinating.
Kürzlich bestellte ich Dessousmaterialien. Daß das mit den Farben immer schwierig ist nach Photos ist schon klar. Aber deswegen gibt es ja so was wie Farbnummern. Dachte ich. So bestellte ich die all-over Spitze in "Royal-blau Fb1078" und eine Mikrofaser in "Königsblau Fb1078".
Some time ago I've ordered material for bra sewing. I know that it is difficult to choose colors after pictures. But that's why there are descriptions and even such things as color numbers. At least that's what I've thought. So I ordered an all-over lace in "Royal-blau Fb1078" and a microfiber fabric in "Königsblau Fb1078". ("Königsblau" is the Geman word for "royal-blue")
Gut, die Spitze rechts hat eine Farbe, die ich auch als royalblau bezeichnen würde. Die Farbe der Mikrofaser… ist dunkelblau. Ein bißchen heller, wenn die Sonne genau drauf scheint. Und hat immerhin noch einen Unterton der so irgendwie in die Richtung geht. Aber dafür, daß es die gleiche Farbnummer ist… schon spannend. Und dann habe ich noch eine schmale elastische Spitze dazu bestellt. Die hat zwar nicht die gleiche Farbnummer, ist aber auch als "royal-blau" bezeichnet. Die Farbe hat allerdings nicht die geringste Ähnlichkeit mit "royal" oder "königsblau". Es ist so eine Art… pastel-petrol mit grauem Unterton. 😛
Okay, the lace on the right is what I'd call royal blue. The color of the microfiber fabric… is navy. In direct sunlight maybe a lighter navy. And there is at least an undertone that maybe goes a bit in the royal blue directions. But considering that both materials have the identical color number…. interesting. An then I also ordered a lace trim. Which did have a different color number, but was also called "royal blau". And here… really, the color has not the slightest similarity with anything "royal". It's more a kind of… pastel teal with a greyish underton. 😛
Farbwahrnehmung ist schon eine spannende Sache… 😀
Color perception is really an interesting thing… 😀