Striped Beanie
Ich weiß, daß im Moment gar nicht die Jahreszeit dafür ist, aber ich bin gerade in grimmiger "Reste gar nicht erst entstehen lassen" Stimmung. Und zumindest bei Wolle könnte es ja klappen. Da ist auch mein Lager nicht so groß…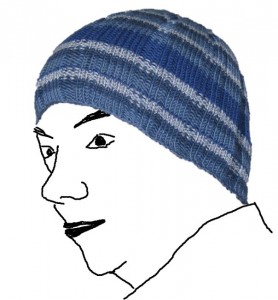 I know it is absolutely the wrong time for knitting warm hats, but I feel so much like "not producing more stash" that I am trying to finish all rest yarn after finishing a project.
Die Reste sind "Zara" von Filatura di Crosa und "Merino Extra" von Schachenmayr. Als Anleitung habe ich meine eigene 1-2-3-5 Mütze verwendet. Ich muß das Rad ja nicht immer neu erfinden.
Die fertige Mütze wirdmit dem Schal (von dem es die Reste sind) auf die Reise gehen.
The yarn remnants were "Zara" of Filatura di Crosa and "Merino Extra" from Schachenmayr. I used my own 1-2-3-5 Beanie pattern.
The yarn was left from knitting the scarf for a friend and the hat will just be delivered with the scarf.