Saddle has it warm, ass remains clean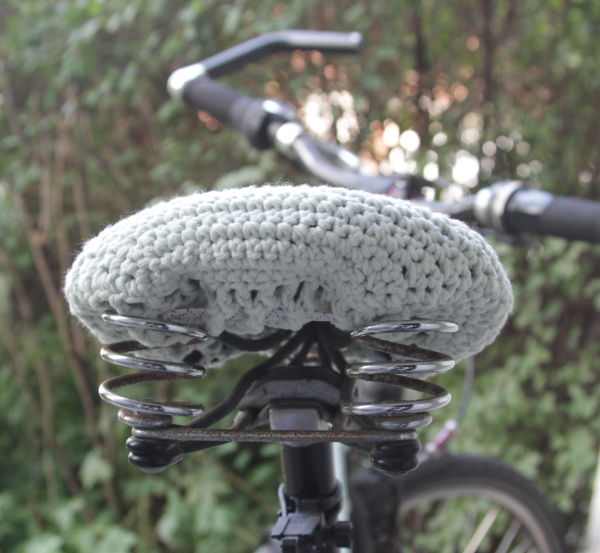 Mein Brooks Leder Sattel ist ganz toll, um darauf zu fahren. Er hat nur einen Nachteil: Er färbt ab. Braun. Im Winter ist das nicht ganz so problematisch, zum einen färbt es ohne Schweiß weniger, zum anderen sieht man es auf dunklen Hosen nicht so.
My Brooks leather saddle is great for riding my bike. But there is one disadvantage: It stains. Brown. In winter it's not so problematic, because with less sweat it stains less and also on dark jeans, pants, trousers,… it does not show that much.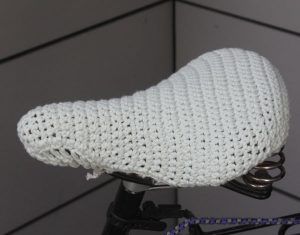 Im Sommer hingegen… braune Flecken am Po einer hellen Hose? Na nicht so gut.
In summer on the other side… brown stains on the "derrière" of white or beige pants? Not so good.
Deswegen habe ich mir schon vor Jahren vorgenommen, einen Sattelbezug zu machen. Und so habe ich mir kürzlich endlich ein Garn geschnappt und losgehäkelt.
And so I recently took some yarn from my stash and finally started crocheting.
Das Garn ist "Cotton Club" von Cascade Yarns, das ich vor einigen Jahren in der Web's Grab Bag aus den USA bestellt hatte. Es ist ein recht "loftiges" Baumwollgarn, dessen einzelne Fäden aber gut verzwirnt sind. Gehäkelt habe ich es mit einer 5mm Häkelnadel.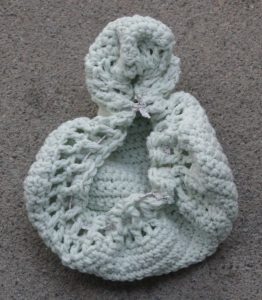 The yarn is "Cotton Club" by Cascade Yarns which I got from the Web's Grab Bag I had ordered in the US a few years ago. It's rather "lofty", but the threads it's plyed from seem quite densly twisted. I used a 5mm crochet hook.
Die Anleitung ist von Sabine Eggert aus dem Buch "Ein Knäuel Ideen häkeln" vom Top Verlag, das aber inzwischen vergriffen ist. Die Anleitung braucht viel mehr Garn, allerdings wird da mit dem Garn auch noch eine "Wiese" in den Sattel geknüpft. Die wollte ich nicht, daher kam ich mit dem Knäuel, das ich hatte auch gut aus.
The instructions are from Sabine Eggert, I took them from the German book Ein Knäuel Ideen häkeln" by Top Verlag (OOP). The pattern calls for about twice the yarn I had, but they also have you rug a lot of threads into the saddle cover to imitate grass. I wanted it purely functional, so I did not do that and one skein was enough.
In dem Buch bekommt jeden Anleitung nur eine Seite und das merkt man auch. Man kann der Häkelschrift gut folgen, aber es wird zwar das Symbol erklärt, bei dem man aus einer Masche zwei häkeln soll, das andere Symbol für den "Rückweg" (also zwei Maschen gemeinsam abmaschen – zumindest habe ich das so gemacht) wird nicht erklärt. Anfänger könnten daran scheitern. Auch bleibt unklar, ob man durch beide Maschenglieder einstechen soll oder nur durch eines. (Auf dem Bild kann man das auch nicht erkennen, da ist ja die "Wiese" drüber.)
The book allows only one page per pattern and that shows. You can follow the charts, but they only explain the symbol for "making two stitches into one". That you need to do the contrary for another unexplained symbol you have to figure out yourself. Not a real problem for an experienced crocheter, but  a beginner might have a problem with that. What I missed were instructions if you are supposed to work your stitches only in one "loop" or in both.
Ich habe mich dafür entschieden, in beide Maschenglieder einzustechen. Ich wollte ja was Dichtes. Lochreihen waren eigentlich fünf oder sechs vorgesehen, aber nach zweien ging mir das Garn aus und man sieht, daß es auch groß genug ist.
I decided to work through both loops because I wanted something rather dense. There should have been five or six ajour rows all around, I had only yarn for two which is the right size for my saddle anyhow.
Als Abschluss habe ich keine Luftmaschenkette genommen, sondern einfach festen 5mm breiten Gummi eingezogen. Im vorderen Bereich gibt es noch quer eine kleine Gummischlaufe, die verhindert, daß der Bezug beim Fahren ganz nach hinten gezogen wird.
Instead of crocheting a chain to attach the cover I pulled a strong 5mm large elastic through the holes. On the front part there is another tiny loof across to prevent the cover from riding too much backward.
Gehäkelt war das am Ende in zwei Abenden auf dem Sofa und der Bezug funktioniert. Der Sommer ist zwar mehr oder weniger vorbei, aber der nächste kommt bestimmt. Außerdem habe ich auch ein paar helle Hosen für den Herbst…
Crocheting was done after two slow evenings on my sofa and the cover does its job. Summer is mostly over, but there will hopefully another one. Also I have some pants for autumn in light beige….