Mitts for an Organist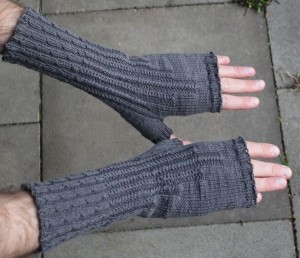 "Das wäre zum Orgelspielen aber praktisch" sagte ein Freund spontan, als er mich hieran nadeln sah. Er mußte mir aber zustimmen, daß die doch ein wenig mädchenhaft sind. 😉
"That would be useful for playing the organ" a friend of mine said spontaneously when he saw me knitting those. But he agreed that they were a little too girly for him. 😉
(Für Nicht-Kirchgänger: die meisten Kirchen sind alt und nicht gut geheizt. Oder gar nicht, wie in diesem Fall.)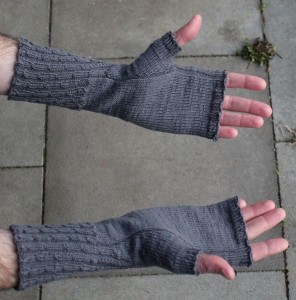 (For those who do not know: European Churches are often old and not well heated. Or not at all. As is the case for my friend.)
Aber das klang nach einem "Auftrag", der mir Spaß machen würde, also ließ ich mir die Wunschmaße geben und strickte los. Wunschgemäß natürlich in einem frischen männertauglichen grau, sehr weiche Sockenwolle von Lana Grossa, Meilenweit 50 Seta/Cashemere.
But that sounded like an "order" that would be fun so I asked for the measurements he wanted and started knitting. The color he wanted was a fresh grey, of course. A very soft sock woll, Meilenweit 50 Seta/Cashmere by Lana Grossa.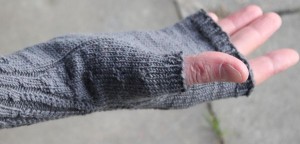 Wenn ich schon keine Farbe nehmen durfte, habe ich mich an der Struktur ausgetobt: die Rippen des Armteils sind locker gezopft, auf dem Handrücken geht es dann mit sehr dichten Zöpfen weiter. Der Daumenzwickel ist extra mit etwas Mehrweite für die Bewegungsfreiheit gestrickt und die Zöpfe laufen dezent über den Daumen weiter.
Since I wasn't "allowed" colors I played with texture: The ribs on the arm have loose cabels which get dense in the back of the hand. The thumb gusset is a little loose to make sure there is enough room for movements. And decent cables run up the thump.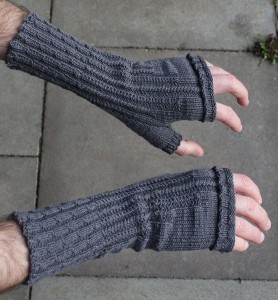 Die Stulpen sind schön lang, um die Finger in den Spielpausen warm zu halten. Und wenn es ans Spielen geht, dann kann man das Bündchen vorne etwas zurückfalten.
The mitts are nicely long to keep the fingers warm while waiting. And to start playing one can fold it back a bit.
Mir hat das Stricken jedenfalls Spaß gemacht und mein Freund ist glücklich über seine Orgelhandschuhe. 🙂
I had a lot of fun knitting it and my friend is very happy about his organists mitts. 🙂