… zumindest in Paris
Christmas is near… at least in Paris
Wobei es diesmal ja eine gewisse Berechtigung hat, denn der erste Advent ist tatsächlich schon am übernächsten Wochenende. Also Zeit für einen kleinen Überblick über die diesjährige Weihnachtsdekoration der Kaufhäuser.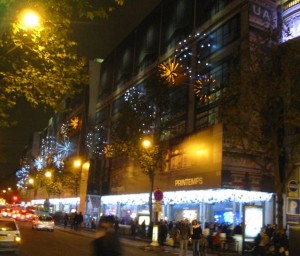 "Printemps" hat sich schon wieder neu eingekleidet, Kosmische Träume sind das Thema und so ist die Illumination wieder relativ schlicht, aber ein bißchen spacig.
Die tanzenden Puppen in den Fenstern hingegen waren auch etwas… sparsam. Und uninspiriert. Das hat man schon mal besser gesehen.
At least the "Grand Magazin" in Paris brought out their Christmas decoration. If I come to think about the fact that the first advent will be in about ten days, therefor still in November timing can be considered okay now. So here is my overview.
"Printemps" made a complete redo, everything new and shiny, relatively calm though. Cosmic dreams were the topic, so they aim for something kind of "space something".
While the outside is nice (better than what my poor picture could capture) the dancing puppets in the windows were… uninspired. I know they can do better.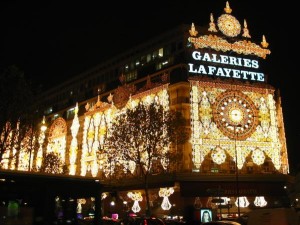 Keine Zurückhaltung hingegen bei den Galeries Lafayette, prächtig protzig überstrahlen sie die Straße.
Ein vertrauter Anblick, denn letzten Jahr, vor zwei Jahren und noch ein bißchen länger hat sich da nicht viel getan. Die Deko hat vermutlich das Budget für ein ganzes Jahrzehnt verschlungen, von den Stromkosten gar nicht zu reden. 😉
Plain "bling" for "Galeries Lafayette", their christmas decoration could replace the street lights.
A very familiar view, by the way. Like last year, two years ago… and I don't remember for how long they are using the same decoration. Evidently buying it must have used up a ten year budget. Not to talk about the electricity bill… 😉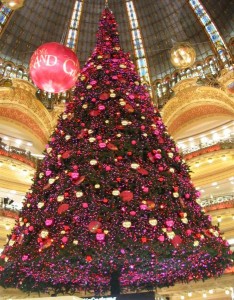 Der Weihnachtsbaum erstrahlt dafür ganz neu und pink in diesem Jahr, wie auch die tanzenden Puppen in den Fenstern. (Wegen der vielen davorstehenden Kinder leider kein Bild.) Die sind dieses Jahr auf alle Fälle interessanter als beim Nachbarn.
(Wenngleich natürlich das neue pinke Outfit nicht mehr so recht zur alten Lichterpracht paßt…)
Everything new inside… the christmas tree and the decoration shows a lot of pink, as do the shop windows with the dancing dolls. Much more interesting than those next door.
(Even though the new colour scheme does not match exactely the old light show…)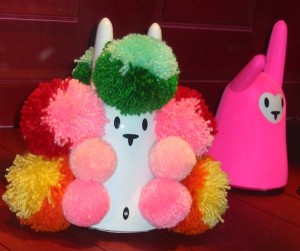 Das neue Farbschema erstreckt sich auch nicht über die Straße bis zur Haushaltswaren und Möbelabteilung, trotzdem sind deren Schaufenster einige Blicke wert.
Viele Designer und Modeschöpfer durften sich nämlich an den WLAN-Hasen (die einen ganz coolen Namen haben, den ich mir aber nie merken kann) austoben… 🙂
The colour scheme doesn't stretch over the street to the household and furniture department, still their windows are worth several looks, too.
(Fashion)Designers were invited to let their imagination play and find outfits for those WLAN-rabbits (which have some ultracool name that I can never remember…).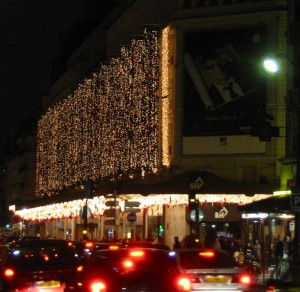 Bon Marché habe ich mal wieder weggelassen, denn er liegt einfach so gar nicht an meinem Weg, aber BHV ist so nah an meiner Wohnung, daß es eine Schande gewesen wäre, nicht wenigstens mal vorbei zu sehen.
Der Fassadenschmuck ist hell und nett, aber nicht sehr aufregend…
Bon Marché didn't make it into my selection just because it's usually far off my route. But "BHV" is so close to my Paris home, that it would have been a shame, not to have a look.
The facade has light and quite a lot of it, but nothing thrilling…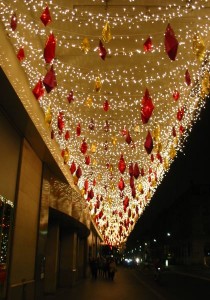 Der Charme erschließt sich erst, wenn man an den Schaufenstern enlang geht, die einen mit Einhörnern und Drachen mit klimpernden Wimpern ins Land der Legenden enführen wollen und dabei unter einem strahlenden Baldachin entlangschreitet…
But you feel its charme when you walk along the windows, watching unicorns and big and/or ultra cute dragons that want to take you to the Land of Legends. Then you walk under this radiant canopy…