Everything is fashion in Paris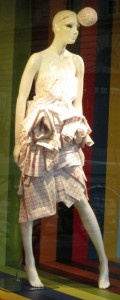 Was mich immer wieder fasziniert ist, daß in Paris am Ende doch wieder alles auf Mode rausläuft.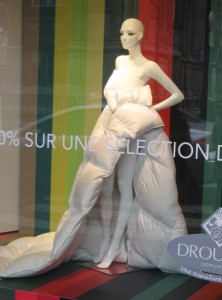 What always fascinates me in Paris is, that in the end everything is fashion.
Und wenn es nur darum geht,  Bettzeug oder Geschirrtücher zu verkaufen. Egal, machen wir Mode draus. Zumindest an den Schaufensterpuppen.
We're selling dishcloth and bedding? No problem, we'll make it fashion. At least on the mannequins in the shop windows.
Leider ließen sich diese Schaufenster am BHV in Paris im Januar nicht wirklich gut ablichten, aber ich wollte es euch nicht vorenthalten. (Wenn man auf die Bilder klickt, bekommt man eine etwas größere Version. Sie ist nicht wirklich besser, aber größer. 😉 )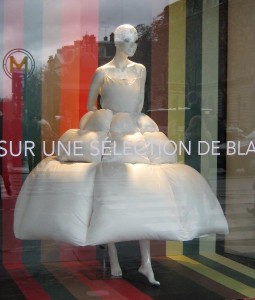 Vielleicht ist das eine oder andere ja auch eine Idee für Karneval? Zumindest die Variaten aus Kissen und Decken sehen doch kuschlig und warm aus.
I wasn't able to take better pictures but still I wanted to show you those shop windows at BHV in Paris in January. (If you click on the picture you get a version that is not really better, but at least bigger. 😉 )
Maybe that can inspire you for a carneval costume? At least the ones with the bedding look cosy and warm.