A test, a test..
Meine Handarbeitslehrerinnen hätten sicher nie geglaubt, daß ich mal zur Teststrickerin avancieren würde, aber doch, es ist passiert. (Und fertig bin ich schon seit Mitte September, aber irgendwie hat das mit dem Photographieren nie geklappt. Jetzt gibt es halt ein nicht so schönes Photo, denn ein schönes würde wohl nie passieren.)
My teachers at school who taught me knittig surely never thought I could become a test knitter for a new pattern, but that is what happnende. (I've finished mid-september, but somehow taking a picture never happened. Now I finally gave in and you'll get a not so nice picture instead of a nice picture that never will happen.)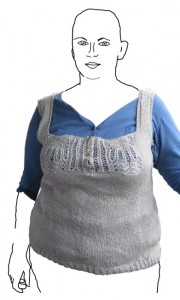 Die Jahreszeit paßt auch nicht ganz, eigentlich ist es ein luftiges Shirt mit Lochmuster im Vorderteil. Weil es aber Herbst ist, habe ich es über ein Shirt gezogen.
It is also the wrong season, normally it's a summery top with a bit of lace in the front. But since we have autumn here I am wearing it over another shirt.
Die Anleitung ist von Silke Ufer Design und heißt Hey Jackky68!. Für mich in Größe XL, der größten Größe. Als Garn habe ich ein uraltes Leinen-Mischgarn Namens "Friska" von Schachenmayr nomotta genommen. Obwohl die Anleitung ja ein Teststrick war hatte sie auf Anhieb keine gravierenden Fehler (kleinere, so wie Rechtschreibung, wurden ausgebessert) und war gut verständlich. Außerdem sind immer wieder Zentimeterangaben dabei, so daß ich gleich beim Stricken gut an meine üblichen Figurbesonderheiten anpassen und auch meine unterschiedliche Maschenprobe berücksichtigen konnte.
The pattern is called Hey Jackky68! and it's from Silke Ufer Design. I made it in XL, the biggest size available. I had found a very old linen-blend yarn from Schachenmayr nomotta in my belongings just before starting this project. It is called "Friska" and was just perfect. Even though it was a test knit there were no major mistakes in the pattern (and the minor ones like typos have been corrected) and the instructions were clear. Since the pattern contains also a lot of size information in centimeters it was easy for me to adapt it to my figure and also to my gauge.
Das Top wird in Runden gestrickt, von unten nach oben. Es ist unkompliziert zu stricken, nur leider etwas langweilig, bis auf das schöne (gespiegelte) Lochmuster im Vorderteil. Aber da muß man durch… 😉 (Nachdem ich ja lieber Sachen anziehe, die etwas schlichter gehalten sind, muß ich halt auch schlichte Sachen stricken.) Sehr gut gefällt mir auch, wie die Träger angesetzt werden. Die Träger sitzen für meine schmalen Schultern etwas weit außen, aber da kann die Anleitung nichts dafür. Jedenfalls ein klares "Daumen hoch" für dieses Top und die nächste Sommersaison.
The top is knitted from the botton up and you are working in rounds. What I had lovend from the beginning is the (mirrored) lace pattern in the front. The rest of the top is mostly stockinette, so easy to knit, but a little boring, too. But that's the price… 😉 (Since I prefer to wear things that are more plain I have to knit things that are quite plain also.) I liked a lot the clever way how the straps were attached to the bodice. The straps are a bit wide for my narrow shoulders, but that was my mistake not to correct that in time. Definitely a "Thumbs up" for this top for the next summer season!
Zu kaufen gibt es die Anleitung über Ravelry (siehe der Link zur Anleitung oben), wer noch mehr Details über meinen Strickprozeß erfahren will: Hier geht es zu meiner ravelry Projektseite.
You can buy the pattern via ravelry (see the link to the pattern above) and if you want to know more details about my knitting process check out my ravelry project page.