Fabric Shopping in Berlin: Hüco-Stoffe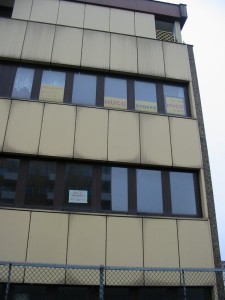 Eine berufliche Fahrt nach Berlin im November mußte ich natürlich auch nutzen, um ein Stoffgeschäft zu besuchen. Und eine liebe Berliner Nähfreundin hatte auch einen Tip für mich.
Der führte mich in ein Gewerbegebiet und der Rat, auf der Suche nach oben zu gucken, der war nützlich. Denn der Laden ist im 2. Stock und man muß klingeln, um herein zu kommen. (Im Erdgeschoß gibt es auch einen kleinen Verkaufsraum, mit Coupons, Bändern und ein paar Kurzwaren, wenn ich mich recht erinnere.)
On a professional trip to Berlin in november I took the chance to check at least one fabric shop there. And one of my sewing friends there had an addresse for me.
That led me to an industrial/commercial area and her advice to look up was a good one. Because the shop is on the second floor (or third, depending on how you count in your country) and you have to ring a bell to be let in. (On ground level there is a small salesroom where they had mostly precut pieces, ribbons and some notions, if I remember correctly.)
Von außen, zugegebenermaßen wenig einladend…
A bit uninviting from the outside…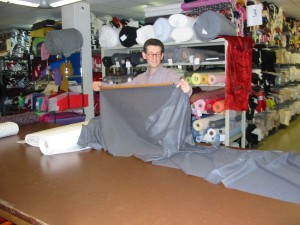 Aber das Innere entschädigt dafür. Auf schlappen 1000m² (laut Firmenwebseite, nachgemessen habe ich nicht) stapeln sich alle Arten an Stoffen auf hohen Regalen. Und der riesige Zuschneidetisch ist ein weiterer Traum.
Glücklicherweise hängen zwischen den Regalreihen wenigstens Nummern, die einem helfen, einen einmal gesichteten Stoff vielleicht wieder zu finden. (Aber man sollte sich einen Zettel mitnehmen, um die Nummer aufzuschreiben. Die Chance, daß man sich merkt, welcher Stoff wo lag ist gering.)
Das Angebot umfasst vor allem Bekleidungsstoffe. Diese sind nach Sorten sortiert und egal ob einfach Baumwolle oder edler Woll-Boucle, es gibt eigentlich alle Preisklassen. Und alle Preise sind mehr als angemessen.
But what you find inside compensates for the outside. 1000 m² (says the webside, I didn't measure myself) with high racks full of fabric bolts and rolls. Not to forget the super large cutting table….

Luckily there are numbers on the racks, elseway no chance to find again that interesting fabric you fumbled five minutes ago. (And don't forget to bring paper and pencil, you will not be able to memorize, there are to many interesting things…)
What they offer are mostly fabrics for garments, from simple cotton to upscale designer wool they have something for any taste and any price. But all prices are very competitive.
Sehr freundlich übrigens auch das Personal. Wer schon weiß, was er sucht, bekommt den Weg zum Regal gewiesen, der Stoff wird effizent und fix abgeschnitten während man an dem altmodischen Schalter bezahlt. Danach kann man vollbepackt von dannen ziehen.
The salespeople are friendly. If you are looking for something special they will direct you the way to the right rack, then your fabric is cut efficiently and quick while you pass to the old fashion cash-box for paying. After that you can leave happily with your huge fabric bag(s).
Die Adresse: Lise-Meitner-Straße 7-9, 10589 Berlin
Und natürlich gibt es eine Website: www.hueco-stoffe.de