Indian crafters (part 3)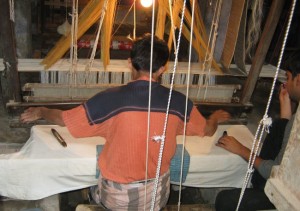 Da ich so begeistert war, gibt es noch ein paar Bilder… Als ich die Banarasi Seide gekauft habe, konnte ich auch einen Blick auf die Weber werfen. Hier entsteht ein relativ einfaches Stück, denn sie arbeiten nur zu zweit. Wenn ein Stück gewebt ist, wird es mit einem Tuch abgedeckt, damit es nicht versehentlich schmutzig wird.
Since I was so thrilled about all those crafters here are some more pictures. When I purchased the Banarasi silk I could also visit their weavers. This must be a relatively simple piece because only two men were working on it. After some length is finished it is covered with the white fabric to protect it from getting dirty.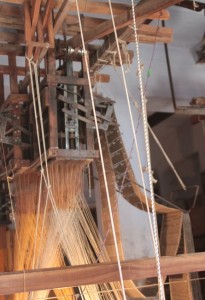 Der Webstuhl ist quasi "modern", denn er hat Lochkarten. Für mich sieht das aber alles sehr kompiziert aus und die Arbeit geht nur in kleinen Schritten voran. Und das liegt nicht nur daran, daß der Seidenfaden so dünn ist.
The loom is nearly "modern" it works with punch cards. It still looks complicated to me. And the work is done by hand and very slow. That is not only due to the fine silk threads that are used.
Ein Vorteil, wenn man direkt in der Fabrik einkauft und auch die Produktionsstätten besichtigen darf ist, daß man auch einen kleinen Eindruck davon bekommt, wie die Handwerker behandelt werden. Auch haben wir an diesem Ort keine Kinder arbeiten sehen. (Was keine Garantie ist, daß dort keine arbeiten. Aber immerhin nicht während wir dort waren.)
One advantage if you buy directly at a factory is that you can get at least a little impression how the crafters are treated. (If you are allowed to visit. Which is normally the case.) And we did see no child laborers there. Again no guarantee that they have none. But not while we visited.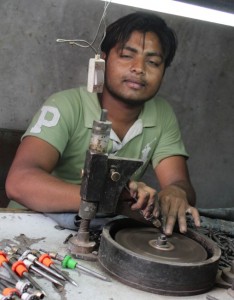 Da Jaipur ein Edelsteinzentrum ist, kann man dort auch Steinschleifern bei der Arbeit zusehen.
Jaipur is a center of gemstones , so you can see those crafters also working.
In dem Bereich werden definitiv Kinder eingesetzt (in das Viertel "verirren" sich vermutlich nicht so viel Touristen), da haben wir aber unsere Kamera mal lieber nicht drauf gehalten….Da wo wir gerne photographieren durften gab es aber keine Kinder an der Schleifmaschine. (Und zur Ehrenrettung: Die mit Kindern waren in der Minderzahl, die meisten Handwerker waren Erwachsene!)
In that field we saw a lot of children working. (I think there are not many tourist who come to the working quarter.) We decided it safer not to take pictures of those places…. But we were allowed to take pictures at other places and there were no children working. (And to make that clear: The places that had children working were a minority, most places had only adult workers!)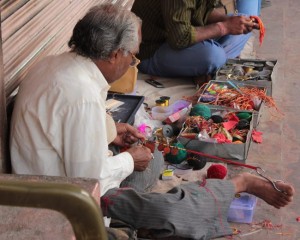 Ein weiteres Faszinosum für mich ist immer wieder, wie wenig Aufwand es braucht, um schöne Dinge herstellen zu können. Ein Metallhaken, ein Quadratmeter Platz auf dem Bürgersteig und schon entstehen schöne Zierkordeln. (Welchem Zweck sie genau dienen dürft ihr mich aber nicht fragen….)
Another fascinating thing is how few you need to create beautiful things. A metal hook, one square meter on the pavement and beautiful twine/braid (?) is created. (Please don't ask me what they are used for. I don't know….)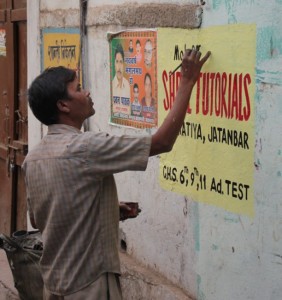 Und wenn bei uns ein Geschäft eine neue Werbung an die Wand bringen will, dann braucht es einen Grafiker, ein Computerprogramm und eine Druckmaschine. Und jemanden, der das dann auch noch an die Wand klebt.
In Indien genügt ein Mann mit etwas Farbe und einem feinen Pinsel… Wenig Technik kann sehr effizient sein.
If here a business wants to advertise they need a specialist for graphic design, a computer program and a printing machine. And someone who will glue it to the wall.
In India you only need one man with some paint and a fine paint brush… Low tech can be so efficient.