Ja, es ist schon so weit. Mit meinem Weihnachtsstricken bin ich fertig. 🙂 (Okay, das liegt an der geringen Anzahl der gestrickten Geschenke…)
Yes, it's about time. I've finished my christmas knitting. 🙂 (Okay, two items… not really great achievement…)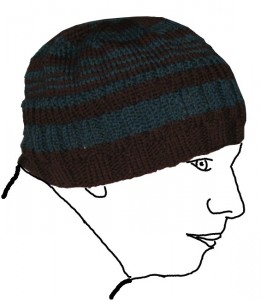 Da mein Bruder seine letzte Mütze ja den Motten geopfert hat (bzw die Hälfte davon, die Biester haben nur das teurere und weichere Garn rausgefressen) gibt es dieses Jahr eine neue.
Since my brother had his last hat eaten by moths he'll get a new one this year. (Btw the moths ate only the softer and more expensive yarn out of the striped hat…)
Ich suchte was mit etwas Struktur, aber nicht so viel Schnickschnack und da gefiel mir "Strib Hat" von Kelly Williams ins Auge. Nur habe ich die Streifen an mein Garn angepaßt. Und habe gemäß meinen eigenen Mützenerfahrungen 112 Maschen angeschlagen.
I had been looking for a pattern with some texture, but no "chichi" and the "Strib Hat" by Kelly Williams was perfect for me. Only changes I made was casting on more stitches (112) according to my own experience with hats and my gauge and I also changed the stripes according to my yarn.
Als Garn habe ich "Zenith" von di.Vé aus einer Grab Bag von WEBS genommen und in der Maschenkunst noch ein Knäuel "Sportwool" von Filatura die Crosa in Grün dazu gekauft. Ergebnis gefällt mir schon mal und hat außerdem Garn von meinem Vorrat verbraucht. Dann hoffe ich mal, daß es dem Beschenkten auch gefallen wird. Und die Motten nicht so schnell wieder drüber herfallen…
Yarn I used was "Zenith" by di.Vé from my WEBS grab bag and added green "Sportwool" by Filatura di Crosa. I like the result and I could use from my stash. So I hope the receiver will like the hat also. And I hope the moths will not eat it up so quickly…