Es gibt ja Stricker, die finden den "Magic Loop", also das Rumgeziehe eines zu langen Seils einer Rundstricknadel, das Nonplusultra. Ich nicht.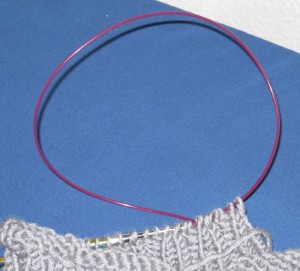 Schon unter besten Umständen finde ich es nervig und ziehe ein solides Nadelspiel jederzeit vor.
There are knitters who think the "Magic Loop" (always pulling loops of a to long cable from circs) the best technique ever for knitting in the round. Not me.
Even under best circumstances it is getting on my nerves and I prefer a good old set of dpns.
Dummerweise will ich gerade ein schnelles (so weit zumindest der Plan) Projekt starten und in der Maschenkunst fand ich zwar ohne Probleme passendes Garn, aber die Feiertage haben auch hier ihre Spuren hinterlassen: Nadelspiele aus Holz in Stärke 5 waren aus.
But I wanted to start a quick project (so far the plan…) right now and I had no problem to find wool at Maschenkunst, but the delivery problems due to snow seem to have hit here also. No 5mm dpns in wood were left.
Also Anschlag mit "Magic Loop". Was ihr hier auf dem Bild nach zwei Tagen seht ist ungefähr die 8 Variante. (Dafür, daß ich wegen falscher Größe noch mal aufgetrennt habe kann die Technik nichts, das sind die normalen Risiken und Nebenwirkungen, wenn man seine Muster selber macht. Aber der Rest…) Gut, daß das Garn von katia unter mehrfachem aufribbeln nicht sehr leidet.
So casting on with "Magic Loop". What you see on the pic after two days is about version 8. (I frogged once due to wrong size. That was not due to that technique, that is just the normal side effects of making ones own patters. But the other ones…) Luckily the yarn from katia supports frogging quite well.
Maschen auf dem Nadelspiel ausrichten geht wesentlich einfacher. Und spätestens nach der ersten Runde kann nichts mehr passieren. Nicht so mit dieser bescheuerten Technik… bei jedem Rausziehen des Seils innerhalb der ersten Runde kann man das Strickstück versehentlich verdrehen. Und nicht nur in der ersten Runde… in der zweiten geht es auch noch. *nervnervnerv*
Wenn das magisch ist, dann ganz sicher schwarze Magie…
It is so much easier to keep the stitches straight after the cast on. And once you have done your first round you are safe. Not so for that stupid technique: Every time you have to pull the cable out within the first round you have a chance to twist your cast on stitches. And not only while the first round… it is still possible for the second round, also. *gnagnagnagna*
If that is magic, then it must be black one…