Soft Blue Stars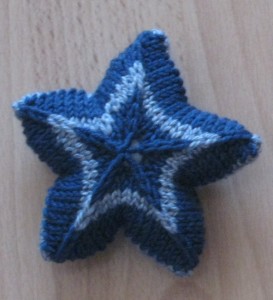 Diesmal war mir ernst mit der Restverwertung… nach Mütze und Schal war immer noch Garn übrig (zumindest in drei von den ursprünglichen vier Farben), also habe ich mich auf Ravelry umgesehen und bin auf diese weichen, gefüllten Sterne gestoßen.
Yes, this time it's serious with "no remnants"… so after scarf and hat I checked Ravelry and found those soft, padded stars.
Das Muster ist Stjärna von Karolina Eckerdal.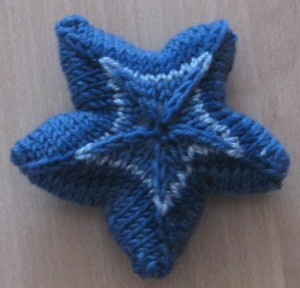 Der rechte Stern hat eine dunkle und eine helle Seite, der linke Stern ist dreifarbig.
The pattern is Stjärna from Karolina Eckerdal.
The star on the right picture has a dark and a "clear" side, the left one uses all three colors that were left after the beanie.
Die Dinger sind komplett nutzlos, aber ein netter Zwischendrinstrick, der auch meine Füllwattevorräte etwas verringert. (Okay, sie haben ganz gute Flugeigenschaften und richten keinen Schaden an… *g*)
The thingies are completely useless, but they are fun and quick to knit and used also a bit from my batting stash. (Well, maybe not completely useless… they fly well and they don't do any harm if they hit… *g*)