Le Lot (Pattern for summer socks)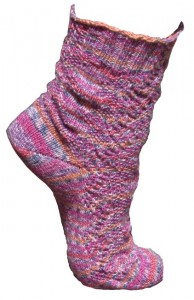 Das Aufschreiben der Anleitung hat ein wenig gedauert und ich hoffe, es sind nicht zu viele Fehler drin…
Writing down the pattern took some time and I hope there are not too many mistakes…
Die Strickanleitung ist wegen des luftigen Lochmusters gut für 4fädige Sockenwolle mit Baumwoll-Anteil geeignet, ergeben Socken in ca Damengröße 39 und ich kann versprechen, daß es beim Stricken mal wieder nicht langweilig wird.
The pattern will work best in 4ply cotton blend sock wool (due to the lacy part), the result will be socks in German size 39 and I don't think you will be bored while knitting.
Lochmuster, Perlmuster und glatt rechts laufen in Zickzackstreifen über die Socke, ziehen sich im Fußbereich ein wenig in die Sohle hinein und außerdem wird das Muster für die linke und rechte Socke gespiegelt.
Wer das wagen will kann die Anleitung hier herunterladen.
Lace, seed stitch and stockinette are zigzagging up (or down) the sock and the pattern of the back of the foot crosses a bit into the sole. All that mirrored for left and right sock.
So if you have the courag to try, you can download the pattern here.
Wie immer ist die Anleitung für den privaten Gebrauch kostenlos. Wenn ihr sie weiter geben wollt, dann bitte als Link auf mein Blog und nicht als Kopie. Danke schön!
Like usual my pattern is free for private use. If you want to pass it on the please do so as a link to here and not as a copy. Thank you!