Project Bag AKA Clutch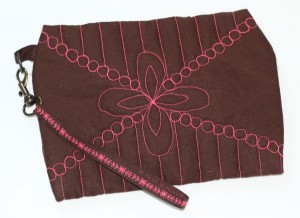 Seit ewigen Zeiten liegt bei mir ja dieses supergeile Neon Nähgarn von Alterfil. (Danke noch mal dafür…) Und das mußte so eingesetzt werden, daß man es auch sieht… Wäre doch zu schade, es irgendwo innen zu verstecken, oder? Und endlich kam mir die "Erleuchtung" wie…
It is for ages the I got this super cool neon sewing thread from Alterfil. (Thanks again…) And I wanted to use it in a way where it is well visible. Would be a pity to hide it inside, wouldn't it? And now, finally, I knew how…
Die Clutch nach der Anleitung von Threads ist nämlich eine prima Größe für eine Projekttasche für Socken und andere kleine Projekte…
The clutch after the instructions from Threads is a great size for smaller knitting projects like socks…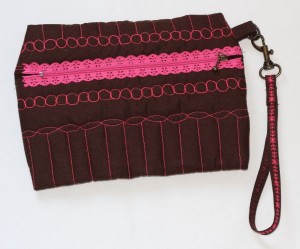 Und um das ganze abzurunden hatte ich dann auch noch diesen ebenso genialen Spitzenreißverschluss in pink vom Nähschotten. Perfekt, oder?
And to make it pefect I used this lace zipper from the Nähschotte. Just perfect…
Da neon mit schwarz langweilig ist, habe ich es hier mit braun gemacht. Statt einer Verstärkung habe ich zwei Stofflagen mit Volumenvlies dazwischen gequiltet. Das Muster ist einfach improvisiert und auf der Handgelenksschlaufe habe ich mal wieder einen Zierstich eingesetzt.
I thought neon with black to boring, so I used brown fabric. Instead of the interfacing from the instructions I quilted two layers of fabric with some quilting batting inside. The pattern was just improvised and tor the strap I used one of the decorative stitches of my machine.