Christmassocks 2014
Da Weihnachten vorbei ist, kann ich endlich auch meine traditionellen "Bruder-Geschenk-Socken zeigen. Diesmal das Modell Riff Socks aus der knitty.
Christmas is over, so I can finally show my traditonal "brother-gift-socks". This time it's Riff Socks from knitty.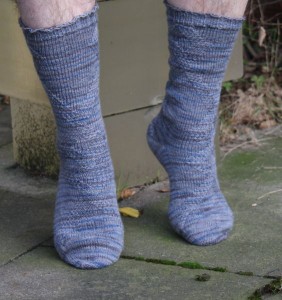 Letztlich habe ich von der Anleitung aber nur das Muster der gekreuzten Streifen genommen und auf meine "normale" Sockenanleitung angewandt. Als Größen gab es S, M, L und XL, aber keinerlei "Übersetzung" welcher Schuhgröße das denn entsprechen könnte. Also habe ich meine normale Maschenzahlen verwendet, meine übliche Toe Up Socke mit Ferse mit verkürzten Reihen gemacht und de Zwickel weggelassen.
Finally I used only the crossing stripes pattern from the original pattern and used it with my "normal" sock construction. The pattern came in sizes like S, M. L and XL, but no indications what (German) shoe size that might correspond to. So I used my normal number of stitches, made my usual toe up short row heel sock and ignored the gusset.
Letztlich habe ich sogar nur eines der Zählmuster verwendet und mir den Rest selber zusammengereimt. Ich glaube, die Kreuzung oben am Schaft habe ich auch anders gemacht als vorgesehen, ich wollte das "drüber-drunter" abwechseln, im Muster ist das wohl anders vorgesehen. Und da ich keinen Grund sah, verschränkte Maschen bei der Linkskreuzung zu stricken, aber nicht bei der Rechtskreuzung… habe ich das auch weggelassen.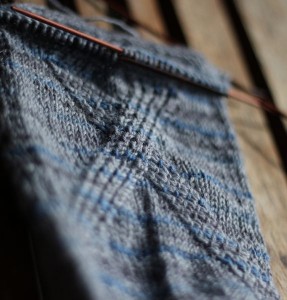 In the end I used only one of the charts and worked the rest according to my stitch count. Also I changed the "crossing" of the "bands" on the leg part. I wanted to preserve the "over-under-over-under" rhythm, I think the pattern does not do this. And then I saw no reason to ktbl for the left twist while not doing so for the right twist… so I did not do that also.
Mit ein bißchen Rechnen habe ich aber trotz der anderen Fersenkonstruktion die Rhomben hinten auch gut hinbekommen.
I managed to do the calculation right, so even using a different heel construction I made the pattern fit on the heel, also.
Als Garn habe ich diesmal "Belday Strumpfgarn 4fach" verwendet. Verstrickt hat es sich gut, mal sehen, wie haltbar es ist.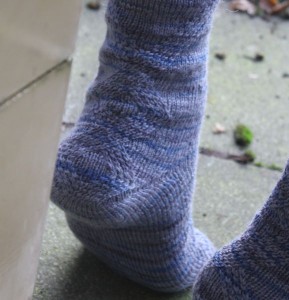 The yarn is "Strumpfgarn 4fach" bei "Belday" . Knits nicely, we'll see how long it will last.
Wenn man das Muster komplett bis zum Schaft hochziehen will, bekommt man sehr, sehr lange Socken. Also länger, als ich sie normalerweise mache. Am Ende bleiben auch nur 4g Garn übrig, das war eine kleine Zitterpartie……
If you want the pattern to finish nicely on the leg you get a verry, very, long sock. At least much longer than what I am making normally. So I had only 4g of yarn left in the end, which caused my quite some trembling fingers towards the end, because I saw myself frogging down both socks to the heel….