Fresh from the Needles – April 2016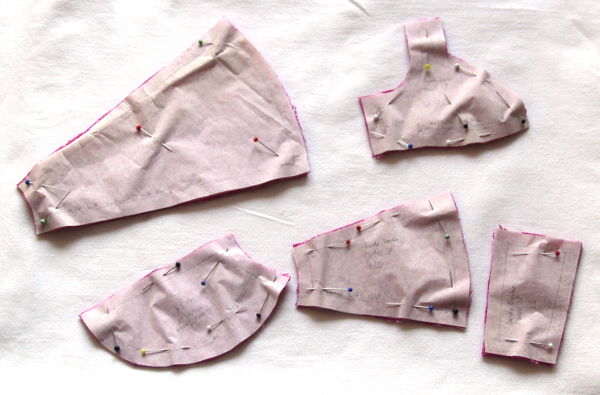 Nähtechnisch habe ich die Jacke endlich fertig (Photo kommt irgendwann noch) und gebe mich dem Kleinkramnähen hin. Also wenig spannend, ein zugeschnittenes Barbiekleid.
Sewingwise I finally finished my jacket (pics still to come) so I am doing some smaller projects now. So there is a cut dress for a Barbie doll, not very thrilling.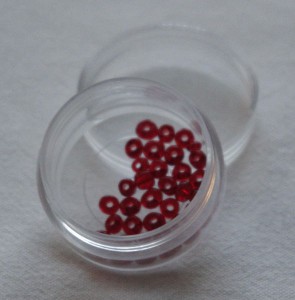 Mein Lace-Schal ist gut vorangekommen. Die erste Hälfte ist fertig, die zweite habe ich angefangen… und wurde von einem Mangel an Rocailles ausgebremst. Seit Februar war ich nicht mehr in Paris, hoffe aber, daß ich bei meinem nächsten Besuch mehr Glück habe.
Nice progress for my Lace Shawl. First half finished, second one started… and now out of seed beads. Haven't been to Paris since February. I hope to be more lucky in the shop on my next trip.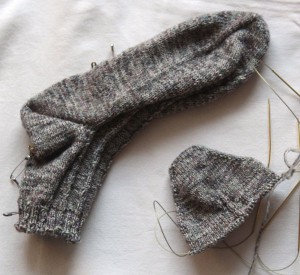 Mit den Socken ging es überraschend gut vorwärts, obwohl die auf meiner Prioritätenliste sehr weit unten stehen. Der Schaft ist deswegen so kurz, weil aus unerfindlichen Gründen das Garn nicht weiter reichte…
Socks made more progress than expected, since they are really on the bottom of my priority list. The leg part is shorter than I had wanted it to be, because the yarn won't last for more…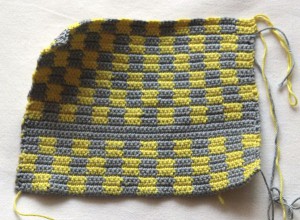 Da mein Lace-Projekt zwangsweise auf Eis liegt, mache ich mich dran, mein Baumwollgar aufzuarbeiten und häkle Topflappen. Das ist schon Nummer vier, der gerade in Arbeit ist…
Since I can't continue my lace shawl I started to work on the cotton yarn. Aim is to use all I've purchased last year for potholders. That is number four I am working on right now.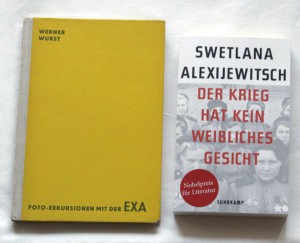 Und weil ich diesen Monat gerade wieder dran denke: Die Lektüre vom Nachttisch. Normalerweise habe ich ja ein Sachbuch und einmal Belletristik. Diesmal ist das nicht so klar. Das alte Photobuch (mal wieder technische Grundlagen auffrischen, die in den alten Büchern noch erklärt werden, weil die Kameras noch nicht alles automatisch machten) ist stellenweise im Erzählton geschrieben. Und Swetlana Alexeijewitsch schreibt keine Fiktion, auch wenn sie den Nobelpreis für Literatur bekommen hat. Dennoch ein sehr spannendes Buch.
And since I remembered when taking the pics this month: The books from my night table. Normally I have one non fiction and one fiction. But this time it is not so clear which is which… the old book about photography (refreshing some very basic knowledge which is explained in the old books, because the cameras did not do everything by themselves) is partially written in a tone like fiction would be. And Swetlana Alexeijewitsch does not write fiction, even though she got the Nobel Price for literature. But an extremely interesting book.