Fresh from the needles in April 2015
Durch Ostern und die Messenachlese wurde dieser Beitrag etwas zurückgestellt, aber nicht vergessen. Also hier tagesaktuell was bei mir auf und unter den diversen Nadeln ist. Ihr werdet feststellen, daß zumindest bei den Stricksachen einiges nicht mehr in der Parade dabei ist…
With Easter and the trade fairs this update comes a little later than usual. But now fresh from on and under my needles. You'll see that at least from the knitting stuff some are missing here…


Die Arbeit an meinem Rock habe ich endlich wieder aufgenommen. Die Versäuberung des Saumes steht gerade an.
I finally came back to my navy skirt. Working on the hem binding.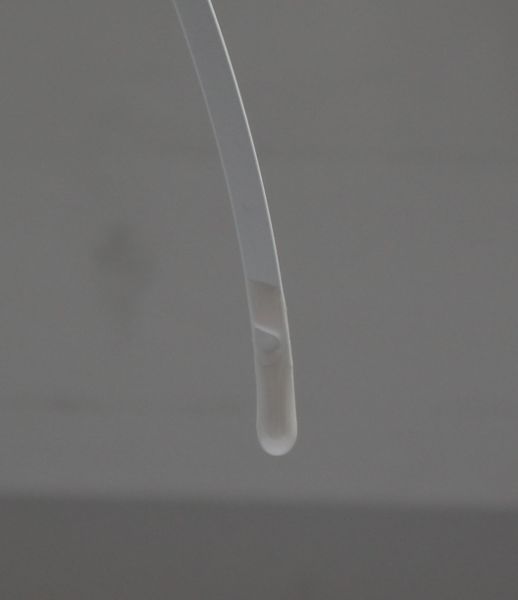 Auch von meinem "ewigen" BH gibt es Fortschritte. Ich habe mir nämlich kurz vor Ostern Hammerite Metallschutzlack in weiß gekauft und siehe da… nur zwei Tauchgänge erbringen einen wesentlich dickeren Tropfen auf den Bügelenden als die sechs Runden im Klarlack vorher. Einmal noch eintauchen, dann sollte es ausreichend gesichert sein und ich kann den BH endlich fertig machen.
There is also some progress on my "eternal" bra. I bought some Hammerite polish for metal shortly before Easter and… surprise, surprise… after dipping the cut wires into it only twice the cover is already better than dipping six or so times into the varnish I had before. So one more go and it should be ready to be installed in the bra finally.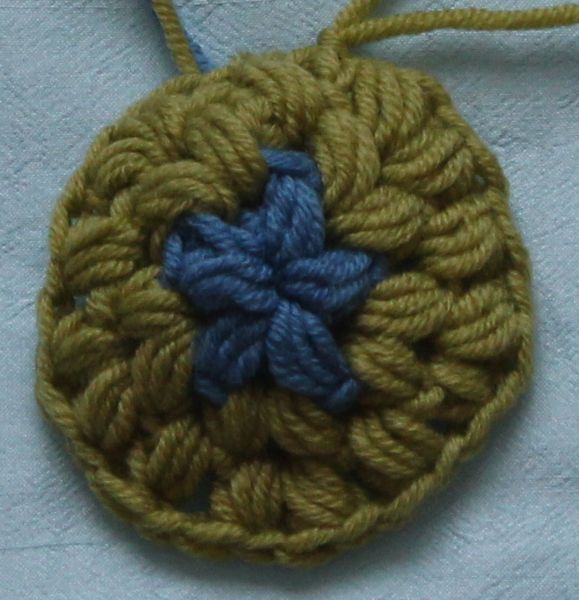 Ganz frisch angehäkelt, nämlich gestern Abend, ist diese Mütze. Ich habe da mal wieder ein Buch zur Rezension vorliegen und man muß ja gucken, ob die Anleitungen auch stimmen…
Super freshly started from yesterday night is this crochet hat. I have a book for reveiw here and of course I have to check, if the instructions are correct…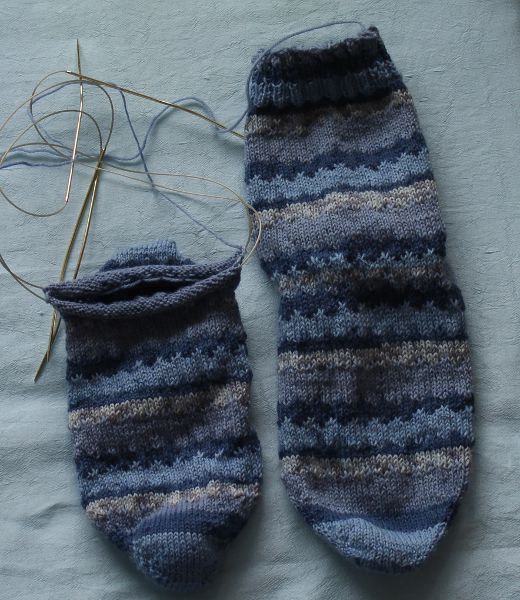 Ein paar Socken habe ich aber auch auf den Nadeln. Das Muster habe ich mal wieder in der Knitty gefunden, mit einfachen Hebemaschen kann man auch aus langweiliger Ringelwolle noch was rausholen. Mein Versuch, mal wirklich gleiche Socken zu stricken wurde allerdings im Keim erstickt: gleich im dritten Streifen, noch auf der Spitze, war ein Knoten, wo offensichtlich ein, zwei Meter Garn in der Farbe fehlen. Billige Sockenwolle von Lidl ist vielleicht nicht optimal, wenn man identische Socken will…
But some socks are on my needles, too. The pattern is from knitty, easy to do and transforms boring selfstripeying yarn into something more interesting. So for the first time in my life I intended to knit identical socks. Well, alread the third stripe on the toe was knotted and some meters of yarn in that color missing. Maybe one should not take cheap sockwool from Lidl to knit identical twins…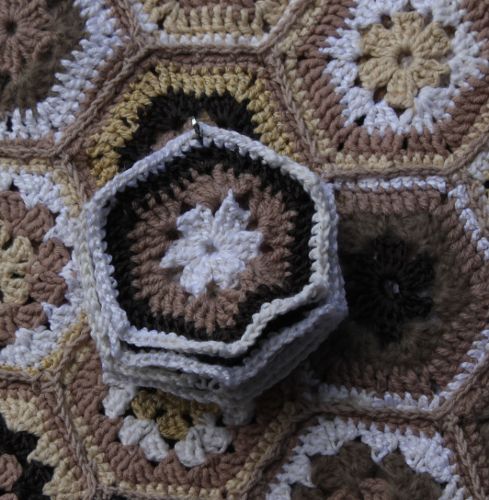 Und natürlich gibt es auch einen Blick auf die Granny Decke. Leider wurde klar, daß ich auf alle Fälle noch mal Hexagons in der mittleren Farbestellung nachhäkeln muß. Inzwischen habe ich neun, von 40. (Vorerst. Ich will nicht garantieren, daß das nicht noch mal nötig ist.)
Not missing the crochet plaid. It became clear that I will need more hexagons. So I have now nine of 40. (At least 40. I will not guarantee that those are the last ones.)