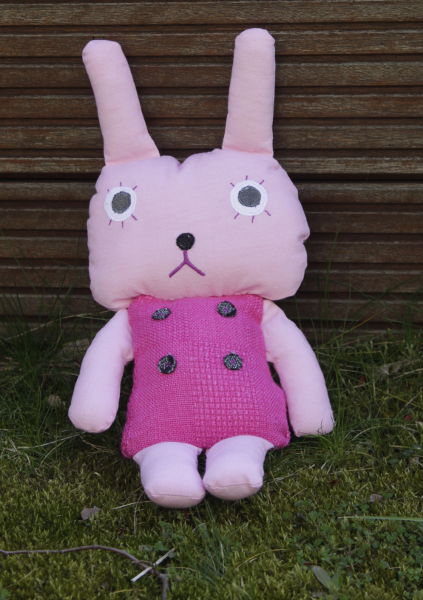 Die diesjährigen Ostergröße verrieten es ja schon… ich habe gerade eine rosa Phase. Die Anleitung ist wieder von aranzi aronzo, der rosa Stoff ist Baumwolle, mit der ich meine Jacke unterlegt habe, der pinkfarbene Stoff das Leinen der Belege.
This years Easter greetings already gave a hint… I am feeling pink. So a pink rabbit was the outcome. The pattern is again aranzi aronzo, the pink fabric for the rabbit is the cotton I had used to underline my jacket, the deep pink is the linen fabric from the facings.
Das Leinen ist zum Füllen eigentlich zu grob gewebt, daher habe ich zwei Reste genommen, die ohnehin mit Vlieseline H200 bebügelt waren. Etwas steif, aber für den Körper in Ordnung. Allerdings franste es beim Wenden dann doch noch ziemlich, so daß ich mehrfach nachnähen mußte.
The linen is too loosely woven to stuff it, so I used two remnants that were already ironed with Vlieseline H200. A bit stiff, but okay for the body. In the end it started fraying when I was turning it, so I needed to resew some seams several times.
Da Rosalie an Ostern zu einem kleinen Mädchen hoppelte, sind die Augen, die Nase und die Knöpfe Applikationen, die mit Vliesofix aufgebügelt sind und dann festgenäht. Der Rest ist gestickt mit Mettler Baumwollstickgarn. Die Maschinenstickerei und die Applikationen habe ich vor dem Zusammennähen gemacht. Das finde ich einfacher.
Rosalie jumped off on Easter to a little girl. So eyes, noose and buttons are made as appliquees. The rest was done as machine embroidery with Mettler cotton embroidery thread. I made both steps before sewing the pieces together, I think that is easier.