Sway back adjustment without a center seam?
Streng genommen ist ein Hohlkreuz ja eine Hyperlordose der Wirbelsäule. Und erfordert eine Schnittanpassung, damit es passt. Ähnliche Probleme haben auch Leute (wie ich) die einen ausgeprägten Po haben. Die Änderung am Rückenteil ist nicht schwierig, aber hinterher ist das Rückenteil natürlich gebogen und man braucht eine Mittelnaht.
Sway back can be due to a hyperlordosis of the spine or of you are (like me) bottom heavy with quite some of it stucking out at the back. The pattern adjustment is not difficult, but then you have a center middle seam, because the center back will be curved.
An einem Shirt (oder hier einem Jerseykleid) will ich das aber nicht immer. Da fiel mir ein, daß ich irgendwann mal von einer Technik gelesen habe, bei der sozusagen Flächen transferiert werden. (Ich weiß nicht mehr, wo und von wem, die Idee ist aber definitiv nicht von mit.) Geht das? Keine Ahnung, aber einen Versuch ist es wert.
On a knit shirt or a simple jersey dress I don't always like that. So recently I remembered heaving read about a technique that transfersareas. (I don't remember where I've read about it and whose idea it was, but it was not mine.) Is that possible? I don't know but it's worth trying.



Nachdem ich den Rücken gekürzt habe, habe ich die Linie des Oberteils gerade nach unten verlängert. Das rote Dreieck zeigt, was weg soll. Und grün ist, was ich an der Seitennaht zugefügt habe.
After shortening the center back I've prolonged the straight center (fold) down to the skirt part. The red triangle shows what has to go. And green is what I've added on the side seam.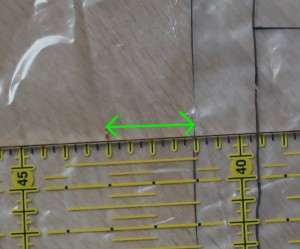 Um die neue Seitennaht zu bestimmen, gehe ich mit dem Patchworklineal Stück für Stück von der Taille nach unten. Ich messe den Abstand der zweite roten Linien (vom oberen Bild – also die hintere Mitte) und gebe genau auf der gleichen Höhe den Betrag an der Seitennaht zu.
To get my new side seam I take my big grid ruler and from top (waist) to bottom I am measuring the distance between the two red lines (from the pic above – center middle). Adding that distance at the same height to my side seam.


Jetzt noch den "Überschluss" an der rückwärtigen Mittelnaht wegfalten. Jetzt habe ich in der rückwärtigen Mitte wieder eine gerade Linie.
Now I am folding back the "surplus" an the back middle. The result is a straight line in the center back.
Ob das dann funktioniert? Ich weiß es nicht. Es ist noch nicht ganz fertig. Und… es wird sicherheitshalber wieder ein Nachthemd. 🙂
Does it work? I don't know yet. It's not finished. And… it will be my usual testing item, a night "dress". 🙂