More useless things: Ponytail Holder
Während ich noch mit Hochdruck an der Jacke arbeite, kann ich immerhin noch eines meiner Wollwerke der letzten Zeit zeigen. Die Parade der Nutzlosigkeiten geht weiter. Denn von dem Pulli war ja auch noch ein Rest "Season 160" von ONline übrig, ein Merino-Baumwollgemisch. Und auch das muß verarbeitet werden, jawohl!
I am still working on the jacket and I have no new pics. But I will take the chance to show another one of my yarn works from the last weeks. We continue the parade of useless things. Because there was also a rest of "Season 160" from ONline, a merino cotton blend. And also that has to be used up, yes!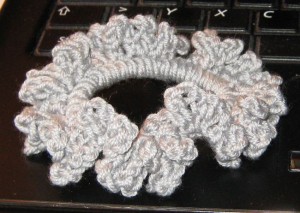 Also wieder Ravelry durchsucht und den Easy Ponytail Holder von Connie Haney gefunden. Der ist wenigstens potentiell benutzbar, zumal mein Garn ja grau ist.
So again I've checked Ravelry and found the Easy Ponytail Holder by Connie Haney. This is at least somehow usable, especially since my yarn is simply gray.
Häkelt sich geschwind um einen dicken Haargummi herum, verbraucht aber nicht wirklich viel Garn… also gleich weitersuchen, das ich noch stricken kann. Ich habe übrigens nicht mal die Anleitung gelesen, sondern nur das Video dazu angeguckt. Das war Neuland für mich, aber die Anleitung ist wirklich so einfach, daß man es im Prinzip gleich mithäkeln kann.
It's a very quick project to crochet around a thick pony tail holder. Only it does not use up much yarn, so the pattern search goes on… For the pony tail holder I did not even read the instructions, I only watched the video which was a first time for me. But it is really so easy that you can simply crochet along with the video.