From preliminary start to urgency…
Im Oktober hatte ich ja schon Socken angefangen, die mein Bruder zu Weihnachen bekommen sollte. Dabei nur vergessen, daß er Weihnachten ja schon was anders kriegen würde. So wurden die Socken fast fertig gestrickt und dann erst mal weggelegt. Bis mir siedendheiß bewußt wurde, wie nahe sein Geburtstag inzwischen war!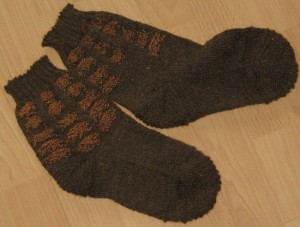 In October I had started to knit sock my brother was supposed to recieve as a christmas gift. What I had forgotten then was, that we already had other plans for Chirstmas. So I  nearly finished the socks and put the aside until I realized that his birthday was approaching very fast!
Die Space Invader die man nicht gut sieht habe ich also mit einem Textilmalstift (Texi Mäxi von Javana für dunkle Stoffe) betupft. Alle linken Maschen. Der Effekt ist nicht toll, aber doch besser als vorher. Ich hatte noch überlegt, die Augen schwarz zu besticken, aber das hätte zu viele Knotfäden auf der Rückseite gegeben. Also bleibt es so.
Since the pattern was not very visible I got a textile marker (Texi Mäxi from Javana for dark fabrics) and painted all the purl bumps. The effect is not great, but bettern than before. I had considered to stitch all eyesockets black, but that would have created to much yarn rests on the inside. So this is what it will be.
Wie gut die Farbe hält wird sich zeigen. Heiß gebügelt habe ich die Socken, mit einem Tuch drüber. Aber gedacht ist die Farbe ja eher für Baumwolle…
I have no idea how well the color will last. I did iron it on setting hot, under a cloth, but normally the paint is good for cotton…