Wie ich schon mal feststellte sind Businessocken für mein Herzblatt eine recht langweilige Angelegenheit. Sehr originell kann man nicht sein…
Frau mhs hat mir aber einen Blick in ihr Buch "Knitting Vintage Socks" gewährt und da stieß ich auf dieses Wabenmuster. (Nein, Wabenmuster ist natürlich nicht neu…) So nahm ich zur Abwechslung mal dieses. Das Muster, nicht die Anleitung im Ganzen.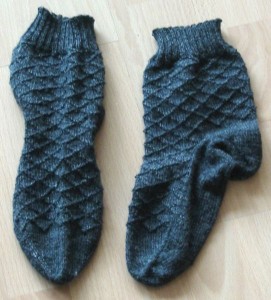 As I had mentionned before, knitting business socks for my sweetheart is a quite boring thing. Not much room for creative ideas…
Frau mhs allowed me a glance in her book "Knitting Vintage Socks" and there I spotted this honeycomb pattern. So I choose this one. Only the honeycomb pattern, not the pattern for the socks.
Auch diese Socken sind wieder Toe Up gestrickt und oben mit einem simplen 2 rechts 2 links Bündchen. Das Muster war etwas anstrengend zu stricken, weil in jeder Reihe gemustert wird, es gibt also keine Pause. Dazu ist das Garn recht dunkel, das Bild ist aufgehellt, damit man vom Muster was sieht. Wenn man viel schwatzt  oder es im Zug nicht so hell ist, dann verstrickt man sich schon auch mal…
I did the socks my usual way, Toe up and the stiches according to the measurements of the feet. The upper cuff is just a simple 2-2 ribbing. The pattern was indeed not so boring, because the pattern changes every row, no break for "no brain" knitting. Also the yarn is a dark grey (darker than on the pic, I've lightened that up so you can actually see thepattern). And if I was talking a lot while knitting or the light in the train was not to clear then one makes one or the other mistake easily…
So liegend sind die Socken recht unförmig, denn wegen des hohen Spanns muß der Schaft recht weit sein. Rippenmuster sind da wohl günstiger, weil sie sich zusammenziehen. Getragen geht es aber.
The socks look a bit bulky, because of the high instep the cuff has to be quite wide. And ribbings are better for that type of foot.
Das Garn ist wieder von Zitron, diesmal Trekking Bambus Pro Natur. Verstrickt hat es sich ähnlich wie das Trekking XXL, also mit der gleichen Neigung, sich aufzufasern. Zusätzlich ist es sehr glatt, so daß ich eigentlich lieber Holznadeln genommen hätte. Aber in Stärke 1,75 gibt es die halt nicht.
Wie sie sich tragen werden wir wohl erst im nächsten Winter rausfinden, ich hoffe doch sehr, das die Zeit für dicke Socken vorbei ist…
The yarn is again from Zitron, Trekking Bambus Pro Natur, which has a nice touch, but has the same problems than Trekking XXL. It is quite slippery, so I would have preferred to knit them with wooden needles, but those do not exist in size 1.75.
Wether they will wear well we'll hopefully find out next winter, not before. I think we had enogh "thick sock weather" for this season…