Stop…
… sagt die Jeans.
….says the Jeans.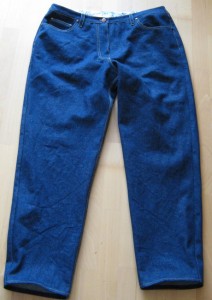 Ja, nach nur wenigen Monaten habe ich es geschafft, die Jeans fertig zu nähen.
Sie ist trotz des verlorenen angepassten Schnittes ein gutes Duplikat von dieser hier geworden. (Inklusive einiger Kleinigkeiten, die ich eigentlich bei der nächsten Version anders machen wollte…) Nur ist der Stoff etwas fester als der letzten.
Yes, after only some month I finished the jeans. Even though I lost my adapted pattern I managed to make a duplicate of this version. (Including some things I had planned to alter in the next version…) Only this fabric is a bit stronger than the last one.
Also kann ich sie anziehen, ich bekomme sie auch zu, ich kann sitzen (zumindest kurzzeitig, einen Langzeittest gibt es noch nicht…) und atmen geht auch noch (ausreichend). Mehr aber auch nicht.
Let's say I can put it on, I can even close the zip, I can sit (at least for a short time, no long term testing so far…) and breathing is also possible. But nothing more.
Was allerdings gut ist, denn ich möchte mich im Verlauf des nächsten Jahres gerne von 5 kg Körpergewicht verabschieden. So ich rausfinde, wie ich Zeit für Sport in meinem Tagesablauf unterbringe und einen Sport finde, den ich erträglich finde… Aber jedenfalls kann ich nicht mehr zunehmen, so lange ich sie anhabe, weil für Essen ist nicht mehr viel Raum. 😉
Schaun wir mal, was daraus wird….
Which is good because I'd like to say goodbye to 5kg over the next year. If I find a possibility to find time for sport and if I manage to find a sport that is a little less hatefull. But as long I war that jeans I cannot put on more weight, because for food there isn't much room left. 😉

Well… let's see how that turns out..