Elastic thread in use
Einem ersten Test hatte ich den elastischen Nähfaden von Alterfil ja schon unterzogen, aber jetzt durfte er sich auch mal in der Praxis beweisen. (Und damit ihr seht, daß ich außer Urlaub machen auch noch was tue. 😉 )
I had done a first test of the elastic sewing thread from Alterfil a while ago. But now it was time to use it for a real project. (And you can also see that I am not only going on holiday but that I'm also sewing. 😉 )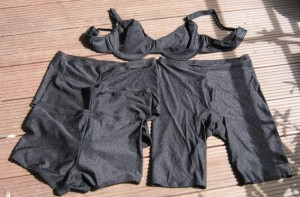 Also diesmal ein großes Wäscheset: 3 Panties nach dem bewährten "Bastelschnitt", ein "Anti-Reibehöschen" nach dem ebenfalls bewährten Schnitt von Marinique Langere. Und der BH, auch langweilig nach bewährtem und nicht mehr erhältlichen Schnitt. Den BH habe ich allerdings mit normalem Alterfil"150 genäht, nicht mit elastischem Faden. (Der Stoff und die Zutaten sind von Elingeria. Auch wie immer.)
So a big lingerie set, 3 panties after my often used pattern, a "non rub" pantie after my usual pattern from Marinique Langere.And the bra, also boring from an often used pattern that is not any longer available. For the bra I've used non stretchy AlterfilS 150, of course.(Fabric and other material is from Elingeria. Also like usual.)

Von der Nähtechnik her habe ich wie immer mit Overlockstich und mit Zickzackstich genäht, an einem Panty war ich allerdings mutig und habe auch die Gummis mit normalem Steppstich abgesteppt.
Nothing new in my sewing technique either. Using serger stitch of my sewing machine and zigzag stitch. Only on one panty I wanted to know and topstitched the elastic with a straight stitch.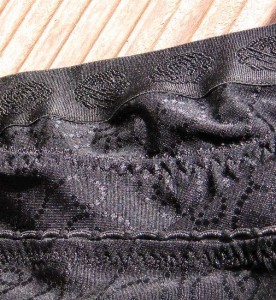 Dann kam der Härtetest…. Radfahren an der Isar entlang. Ich mache es kurz: nichts gerissen, nichts schneidet ein. Der Faden macht es tatsächlich mit! Im gegensatz zu einem der Taillengummis, der ist dauerhaft ausgedehnt. Aber dem Faden geht es gut. Leider scheint er es nicht in die Produktion geschafft zu haben. 🙁 Doch, dank Regina bin ich schlauer, es gibt den Faden in zehn Farben: im Alterfil-Shop! Noch mal Danke, Regina!
(Im Detail sieht man übrigens, daß meine Panties nicht identisch sind, ich variiere immerhin die Gummis. 🙂 )
And the the wearing test… while cycling along the Isar… In short: nothing did tear, all seams and hems held well. And it was stretchy enough to be comfortable. Bad luck only it seems this product didn't make it into the production. 🙁 Thanks to Regina in know better know, the thread is available in the Alterfil-Shop! Ten colors are available, thanks again to Regina!
(Here a close up from the panties. They are not completely identical, I vary the elastics at least. 🙂 )