Travelling and my travel-coat
Ein Reisemantel ist ja eine feine Sache, aber wenn man ständig herumreist, ist es etwas schwierig, die Zeit zu finden ihn zu nähen. Immerhin habe ich in Paris meine Zutatenliste weiter abgearbeitet.
A travel coat is a great thing, but with all my travelling it's difficult to find the time to sew it. At least I bought some of the necessary notions in Paris.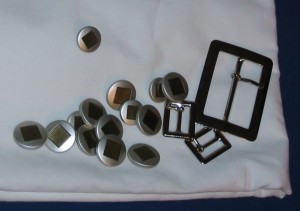 Zuerst war ich bei Entrèe des Fournisseurs (was sich anbietet, weil er ja quasi um die Ecke ist) und habe dort Knöpfe in zwei Größen gefunden. Metalloptik, aber angesichts meines leichten Stoffes aus Kunststoff.
Danach zog ich gen Montmartre auf der (erfolglosen) Suche nach Jersey für ein anderes Projekt. In einem der kleinen Kurzwarengeschäfte dort fand ich immerhin eine Gürtelschnalle. Dabei viel mir ein, daß ich an den Ärmelriegeln statt Knöpfen eigentlich auch lieber Schnallen hätte, also habe ich kleine Schnallen auch noch mitgenommen. Jetzt habe ich die kleinen Knöpfe übrig… denn an den Taschen brauche ich keine, denn die mache ich anders. Allerdings sind die Schnallen glänzend, also werde ich versuchen, sie noch matt zu bekommen.
First I went to Entrèe des Fournisseurs (it's just around the corner) and bought the buttons in two sizes. They look like metal, but are lightweight plastic, more suitable for my fabric.
Then I went on to Montmartre on a (futile) quest for jersey knit for another project. But in one of the smaller shops for notions I found a belt buckle. Looking at it I decided I preferred buckles for the sleeves instead of buttons and bought smaller ones, too. What did I buy the small buttons for? The buckles are shiny I'll try to find a way to make it matt.
Und weil der Laden auch Einlagen hatte, habe ich noch Gewebeeinlage gekauft.
Denn ich wollte mich diese Woche nicht nur an das Aufbügeln der Einlagen machen, sondern auch anfangen zu nähen. Mindestens die Knopflöcher, denn es sollen Paspelknopflöcher werden.
Tja… dann fiel mir allerdings ein, daß die Adventszeit vor der Tür steht und ich zu allermindest dringend die Honigleckerli und die Pommeranzenbrötchen machen sollte, denn die müssen erst einige Wochen liegen, damit sie weich werden.
The shop also had interfacing, so I bought woven interfacing, too.
The plan was to start sewing this week, like the bound buttonholes. (If you have no time, make the pattern more complicated and time consuming. One of my most favourite rules… )
Until I recognized how close the advent time is. And that baking "Honigleckerli" (a kind of gingerbread) and "Pommeranzenbrötchen" was getting urgent. Because they have to be stored some weeks before they are soft enough to eat them.
Und heute wollte mein Schwiegervater wissen, welchen Schnellkochtopf ich jetzt zu Weihnachten möchte, also mußte ich in die Stadt. (Ein paar andere Sachen waren auch aus…) Da ich die no name Einlage immer noch nicht vorgewaschen hatte, habe ich gleich noch bewährtes G785 gekauft, das ich stattdessen verwenden werde. (Falls sich noch jemand fragt, wo meine vollen Stoff und Zubehörkisten herkommen… *g*)
Adam, beantwortet das deine Frage? 😉
And today my father in law wanted to know what model of pressure cooker I wanted for Christmas, so I had to go to town. (Okay, there were other things I also needed…) As I hadn't found the time to preshrink my no name interfacing I also bought G785 that I'll take instead of the woven interfacing. (If anyone still asks how my stash builds… *g*)
Adam, does that answer your question? 😉