… (nein, keine Sorge, ich höre schon auf zu singen…)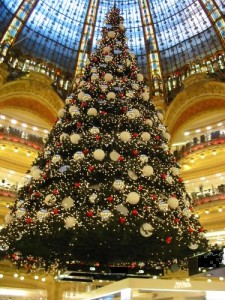 Ich kann es gerade gar nicht glaube, daß es schon wieder eine Woche her ist, seit in in Paris war… die Vorweihnachtszeit genieße ich dort besonders, weil ich mich da dem Kitsch hingeben kann, den ich bei mir Zuhause nie haben wollte… was mir hier "zu viel" an Dekoration erschiene paßt in Paris gerade gut.
Und wenn ich in der Vorweihnachtszeit in Paris bin, dann sind die "Grands Magazin" mit ihrem Weihnachtsschmuck ein fester Posten auf meiner Liste. Zumindest einige davon…
Der Weihnachtsbaum in den Galeries Lafayette ist einer dieser Punkte… dieses Jahr sehr klassisch. Und ja, der ist so groß wie es aussieht…
… (dont' worry, I wont sing…)
I hardly can believe it, but it's one week since I was in Paris… what I love most in "pre-christmas" Paris is, that there I can enjoy all the glamourous "too much" decoration, I wouldn't like to see at home. But in Paris the biggest, the most glitzy just fits.
So of course I'm always trying to see the "Grand Magazin" with there Christmas decoration. Or at least some of them.
The Christmas tree inside the Galeries Lafayette is usually the first stop on my route. This year quite a "classic" decoration I'd say. And yes, it is as tall as it looks like…
Die Außendekoration hingegen… wieder die vom letzten Jahr. Also kein neues Photo, zumal ich diesmal ohnehin kein Stativ dabei hatte…Die Lightshow war möglicherweise etwas anders.. Aber so prächtig… das kann man nicht jedes Jahr neu machen. Nicht mal als Luxuskaufhaus.
Dafür wurde man im "Maison" Gebäude (Möbel und Haushaltswaren haben ein eigenes Gebäude gegenüber vom Haupthaus) von einem schlanken jungen Mann lächelnd begrüßt. Gekleidet von Kopf bis zu den Schuhen in weißes Leder und mit einem Paar Flügeln auf dem Rücken… :o) Dahinter spielten einige Männer Weihnachtslieder auf dem Alphorn.
Ob das jetzt grauenhaft oder schön ist… muß jeder selber entscheiden. *gg*
Und als wir rauskamen viel auf einmal Schnee… ja wo kam der denn her? Aus der Schneekanone über dem Eingang… wenn der Schnee nicht nach Paris kommt, dann macht man ihn eben selber. Kalt genug war es ja…
The decoration outside on the front was the same as last year. So no new pics, I didn't have a tripod with me anyhow… But it's a quite opulent one, so even a "luxury dealer" as the Galeries Lafeayette can't afford that every year, I suppose.
And then they had that young man, dressed in white leather from head to shoes, with white feathery wings on his back, who was greeting all customers entering or leaving the "Maison" building. (Furniture and all kind of houshold goods have not only their own department, but a whole building of their own.) Behind the young man three older men, playing christmas songs on alphorns (the funny swiss things…) Awesome or awful…? Go there and decide yourseves!… *gg*
When we left there was… snow! Rare in Paris, very rare… well, this one came from machines… a sure way to have snow in Paris… :o)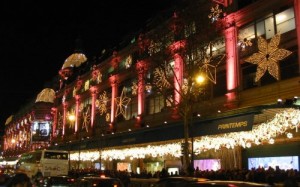 Printemps hat seine Dekoration immerhin ein wenig variiert… die Sterne sind etwas anders verteilt und die Farbe ist (mal wieder) rosa, statt orange.
Hauptanziehungspunkt sind allerdings ohnehin die animierten Fenster, in denen verschiedene, oft musikalisch unterlegte Szenen mit Puppen oder Stofftieren dargestellt werden. (Wegen der davorstehenden Menschenmassen nicht photographierbar.)
Dieses Jahr waren es allerdings größtenteils etwas seltsam anmutende Kreaturen aus Stoff… aber das Vogelorchester war suüß!
Printemps this year did a variation of their decoration… the light elements are distributet da bit differently and the colour is pink, not orange. (Pink again… if I remember correctly they like pink.)
But the main attraction here are the windows, where they have dolls, furry anmals and/or other toys arranged to animated, often funny sceneries. Sometimes with music, too. (No pics, it was too crowded and also too dark.)
I habe to admit that this year the fabric cratures were kind of strange…. but the birdorchestra was veeery cute!
Weil es wirklich kalt war entschieden wir uns für eine Tasse Kaffee unter der Glaskuppel des Printemps und sind danach dort noch ganz nach oben gefahren.
Auch wenn es kitschig ist… ich liebe den beleuchteten Eiffelturm bei Nacht! Wie er über die Stadt zu wachen scheint. (Wie schon gesagt… leider ohne Stativ… aber dank Bildbearbeitung erkennt man wenigstens ein bißchen was…)
It was really cold that day, so we decided to have a cup of coffee under the glassdome of printemps. When we were warm enough again we went up completely to get the view from the outside.
Yes, I know, it IS kitschy…. but I love the illuminated Eiffeltower at night! It seems to kind of watch over the city. (As I said… I didn't have my tripod with me… but thanks to gimp there's something visible on the pic….)
Ich war übrigens ganz brav… ich habe keine Stoff gekauft und keine Wolle.
Nur zwei Bücher… :o)
Aber im Januar komm ich wieder… *g*
By the way… I was very disciplined… I didn't buy any fabric nor wool.
Only two books.
But I'll be back in January… :o)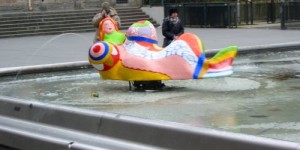 Vielleicht ist es dann wärmer… das letzte Wochenende war jedenfalls für Dezember eher ungewöhnlich kalt. Minusgrade… *bibber*
Allerdings bescherte mir das auch einige ungewöhnliche Anblicke: Die Fontaine Stravinski war größtenteils gefroren… (Sonst wenn es in Paris kalt war, waren die Brunnen eigentlich immer ohne Wasser.)
Nur wo ständig fließendes Wasser draufplätschert ist es noch flüssig, der Rest ist fest.
Maybe it's a little warmer in January, because last weekend it was really cold. Unusual for Paris in December, biting minus Celsius.
On the other hand this provided some unusual looks, too: The Fontaine Stravinski was mostly frozen. (Other times when I felt Paris being very cold the fountains were without water.)
Only where fresh water is constantly dripping it remains liquid, the rest of the water is solid…