Eternal Snow…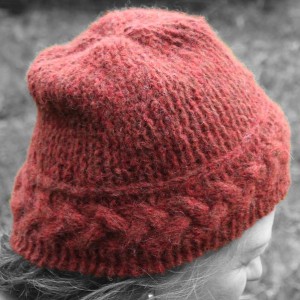 … ist auch in braun hübsch. (Das ist eines meiner kleinen Projekte, die in den letzten Wochen fertig wurden, die ich aber noch nicht genzeigt habe…)
… can be pretty in brown also. (One of my small projects I had finished over the last weeks but not managed to show…)

Neige Eternelle hat Laurene Bassart diese Mütze getauft. Und ich fand die Anleitung perfekt, um den großen Rest der "Garzato Fleece" von Lana Grossa abzuarbeiten.
Laurene Bassart called this pattern Neige Eternelle. And I thought it was perfect to use up the quite large "remnant" of my "Garzato Fleece" by Lana Grossa.
Die Mütze wird mit verkürzten Reihen quer gestrickt und mit einer Naht geschlossen. Ein etwas ungewöhnliches Konzept, man bekommt so aber sehr einfach eine effektvolle Kopfbedeckung und der Zopf einmal rund um den Kopf gefällt mir wirklich gut.
The hat is knit with short rows and then closed with a seam. A bit unusual, but a very easy way for a very cute hat. And I like the braid running around the hat.
Da die Mütze verschenkt wird (der nächste Winter kommt bestimmt…) habe ich sie größer gestrickt als vorgesehen, sie ist aber elastische genug, um auch mir nicht über die Augen zu rutschen. Ich glaube… ich sollte mir selber auch eine stricken.
This hat will be a gift (there will be a next winter, I am pretty sure…) so I made it larger than the instructions said. But it has enough elasticity to keep on myl (smaller) head also. I think… I should one make for myself also…