Green Christmas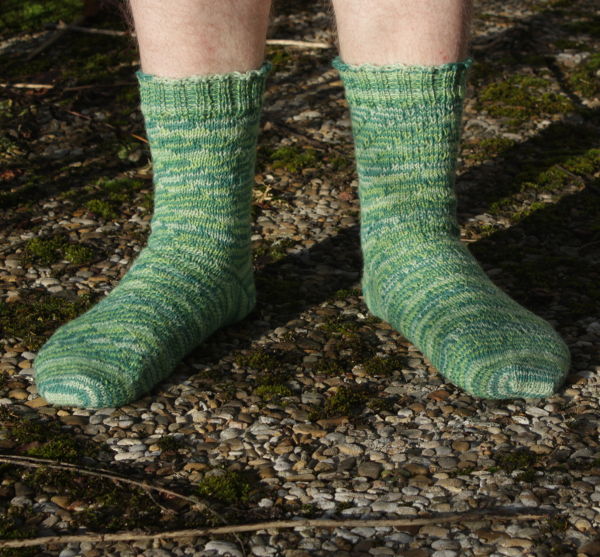 "Grüne Weihnachten" traf dieses Jahr ja auch das Wetter. Und obwohl ich die Feiertage bei meiner Mutter in Oberfranken verbracht habe, war von Schnee nichts zu sehen. Aber nicht nur das Wetter war grün, die traditionellen Socken für meinen Bruder waren es auch.
"Green Christmas" was a good description for the weather this year. And even though I've spent the holiday at my mothers place in Northern Bavaria there was no snow to be seen. But not only the weather was green, the traditional socks for my brother were also.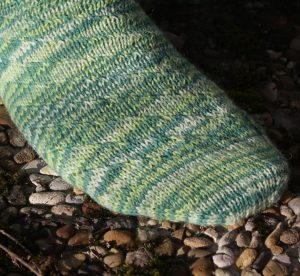 Da ich letztes Jahr festgestellt habe, daß mein Bruder eh lieber bunt mag, fing ich über das Jahr ein Knäuel Schachenmayr Regia 4fädig "Relax Color" in grün ein. Damit das Stricken nicht so fad war, gab es ein dezentes Muster mit Hebemaschen.
Since I discovered last year that my brother prefers colors over "typical" male gray, brown and navy I fetched a skein of Schachenmayr Regio 4ply "Relax Color" in green. To make knitting more interesting I created a bit of a pattern with lifted stitches.
Dieses Jahr wird dann eine neue Herausforderung, diesmal Socken passend zum Hobby. Dann brauche ich wohl irgendwo ein Einstrickmuster für Fluttershy oder Rarity…
This year will be a challenge. Socks fitting his hobby. Guess I'll need charts for Fluttershy or Rarity…