Last Pink Socks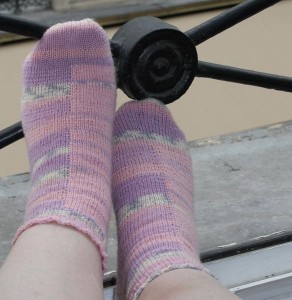 Mein rosa und rosa gestreiftes Garn von Lidl (Crelando Anika) reichte noch für ein drittes Paar Socken.
My pink and pink selfstripeying yarn (Crelando Anika) was enough for a third pair of socks.
Diesmal sind die Spitze, die Ferse und das Bündchen geringelt, der Rest (weitgehend) längs gestreift. Die Verteilung ergab sich daraus, daß ich deutlich weniger rosa als gestreiftes Garn hatte. Außerdem habe ich den Beinteil noch kürzer gemacht.
This time toe, heel and cuff are striped, the rest is (mostly) split half. The distribution is due to the amount of yarn that was left. Much more stripeying than pink.I also made the leg part a bit shorter than usual.

Aus 200g Garn bekomme ich also locker drei Paar Söckchen für mich und es sind noch 15g rosa und 39g Streifengarn übrig. Das reicht dann bis auf weiteres erst mal mit rosa…
So 200g of yarn makes easily three pair of short socks for me and there is still 15g pink and 39g stripeying yarn left. I think that is enough pink for some time…