Socks for Homeless People II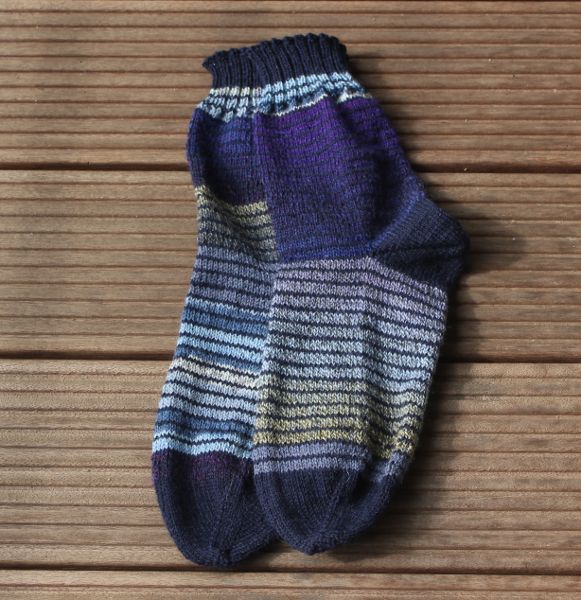 Ich gehe selten mit langweiligen Dingen in Serie. Aber hier heiligt der Zweck die Mitte… diesmal aus blauen Resten bunt geringelt in Größe 43/44. Zum Einsatz kam dunkelblaues Sockegarn, von dem ich gar nicht mehr sagen kann, wo es mal her kam, außerdem Crelando "Anika" in zwei Farbstellungen, "Color Flow" von der Wollspinnerei Ferner und "Olé Socks New Duetto" von katia. Aufgrund etlicher Bahnkilometer und einer zweitägigen Fortbildung habe ich nur genau acht Tage gebraucht, so schnell waren bei mir noch nie Socken fertig.
I don't like to do boring things in a row, but here the aim is worth it. So here socks in size 43/44 made from different blue remnants: a very old navy sock yarn where I can't say what it was and where it came from. Then Crelando "Anika" in two different dyes, "Color Flow" by Wollspinnerei Ferner and "Olé Socks New Duetto" by katia. I had been traveling a lot by train plus a two day company reunion. It took me only eight days from start to finish, I think I've never knitted a pair of socks that fast.