Red an blue is Punch's wife…
So sagt man zumindest bei uns. Aber bei mir wurden es Socken.
I am not sure, how to translate that, but that is a common phrase where I come from and means that wearing strong colors together is not suitable for "decent" people. (Probably from times before color blocking got into fashion) But I didn't care and it became socks.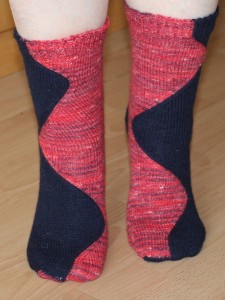 Als ich das Muster Stitch Surfer in der Knitty gesehen habe war sofort klar, daß ich das umsetzen muß. Ich hatte eh schon länger überlegt, mal längst gestreifte Socken zu machen und die Anleitung von Louise Robert sparte mir das selber denken…
When I saw the pattern Stitch Surfer on Knitty I knew instantly that I had to do those. Lenghtwise striped socks had been on my mind anyhow and the pattern by Louise Robert saved me the time for figuering out myself. Lazy me…
Schade nur, daß ich inzwischen meine ungeliebten ringelnden Sockenwollen weitgehend verbraucht habe, so wären ja sogar Ringel erträglich zu stricken.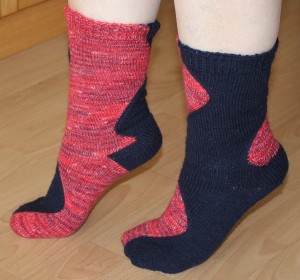 It's only I pity that I've already used  up all those boring self-stripeing sock yarns. Because with this pattern even those can become something attractive.
Das rote Garn ist von Opal, da es weiter keinen Namen hat stammt es (so habe ich mir sagen lassen) vermutlich aus einem Abo. Ich habe es mal irgendwo ertauscht. Das dunkelblaue ist mir billig zugelaufen, vermutlich bei Karstadt und ist von Schewe, "Socks'Wool "uni" "
The read yarn is from Opal and came to me via a swatch. It carries no further name or type, so it might come from an abonement. I was told that this would be typical for those yarns. The navy one was probably cheap and that was why I'd purchased it. Probably at Karstadt. It's "Socks'Wool "uni" " by Schewe.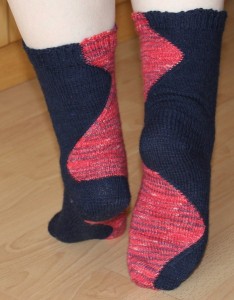 Das Stricken war, wenn man das Grundprinzip mal verstanden hat, eigentlich nicht schwierig. Die Socken werden von der Spitze an hoch gestrickt. Die Ferse wird anders konstruiert als ich das gewöhnt bin und der Schaft ist etwas länger als ich das normalerweise mache. Deswegen wird er nach oben auch etwas eng, ich habe nun mal dicke Waden. Da hilft die besonders dehnbare Art des Abkettens auch nicht. Die rüscht nur, wenn man die Socke nicht an hat.
Knitting was not too difficult once I had understood the basic principle. The socks are knit toe up, the heel is differently constructed from what I'm used to and the leg is longer than I usually do it. That is why it's a bit tight on top. I have thick calves, so even the special super stretchy bind off doesn't help. I don't like that bind off too much, it looks like ruffles if the socks are not worn. And I do not have problems with too tight bind offs anyhow.
Im Ganzen gefallen mir die Socken aber rundum gut und ich habe schon die nächsten angeschlagen. Da werde ich das Muster etwas abwandeln und Spitze, Ferse und Schaft so stricken, wie ich das immer mache.
But as you can see I like my socks from all views. And I've already cast on the next pair. This time I will make a variation of the pattern and will use my usual toe, heel and leg/cuff.
Mehr Infos und Photos vom Strickprozess gibt es für angemedete Mitglieder auf Ravelry.
If you are a ravelry member you can get more information and pictures from the knittig process here.