Selfexplaining needlebook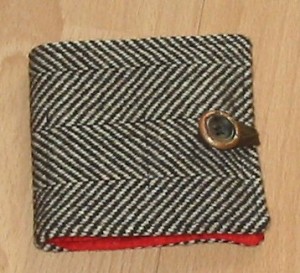 Da mein Bruderherz sich ja jetzt endlich eine eigene Nähmaschine angeschafft hat, braucht er natürlich auch Zubehör. Und das ist für mich eine gute Gelegenheit, Reste zu verwerten.
Wie sieht ein Nadelbuch für einen Mann aus?
Kein Tildagetüddel natürlich, es geht auch anders.
Since my brother finally decided to buy his own sewing machine I decided he needs some notions. A good possibility to reduce my scraps.
So how would a needle book for a man look?
No pink frills, of course, you can do something different.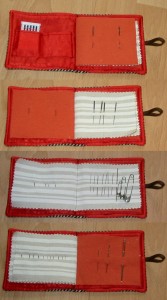 Aber wie immer kommt es ja eigentlich auf die inneren Werte an. (Ein Klick aufs Bild bringt wie immer die größere Version.)
Da mein Bruder sicher kein Vielnäher werden wird (er hat schon genug Hobbies) fand ich es wichtig, daß er ohne viel Nachdenken die richtigen Nadeln findet. Also gibt es ein mehrteiliges Innenleben.
Das Futter hat Taschen für Nadelpäckchen, zwei kleine vorne, eine große (für 10er Packs) hinten. Hier ist aktuell ein Päckchen Jeansnadeln eingesteckt.
Die erste Seite ist aus einem Elastik-Interlock (mit genug Stand), hier sind Ballpoint und Stretch-Nadeln in zwei Stärken eingesteckt. Also Nadeln die man für Jerseys und Strickstoffe braucht.
Weiter geht es mit einem Webstoff, hier sind die Maschinennadeln für Webstoffe, ganz einfach und logisch. Und auf der zweiten Webstoffseite sind normale Handnadeln (und ein paar Sicherheitsnadeln).
Auf der letzten Seite, wieder Interlock, Handstick- und -nähnadeln mit runder Spitze, was man eben für Jersey braucht.
Ich hoffe, er findet es genauso praktisch wie ich…
But what is more important is what is inside. (Clicking on the pic show you a bigger version.) My brother never will always be a regular sewer so it is important that he can find the right needle without reading a manual first.
So on the inside cover of my "booklet" are pockets, two smaller ones on the front inner cover, one bigger (for 10 needle packs) an the back cover. I already put a packet of jeans needles in. The first side is made of a rather stiff interlock and holds ballpoint and stretch needles. What you would use to sew jersey and knits.
Next sides are woven, so they contain machine needles for woven fabric in different sizes and hand needles in different sizes. The last page is interlock again and contains round tip hand needles.
I hope he will find it as usefull as I do.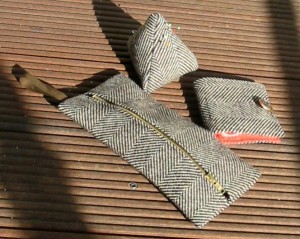 Damit sich das Nadelbuch nicht so langweilt und weil noch Stoff da war habe ich dann ein ganzes Set draus gemacht.
Ein Nadelkissen und eine kleine Tasche für eine Basisausstattung. (Eben ein Nähset für Gelegenheitsnäher.)
Since I had still fabric left I made a small notions kit.
I added a pincusion and a small bag for the basic notions. (A sewing kit for the not regular sewer.)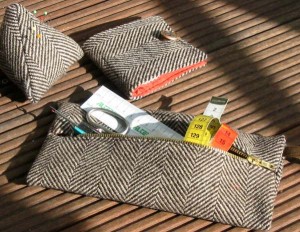 Für die Neugierigen natürlich auch noch ein Blick in das Mäppchen:
Eine Schere von meiner Oma. Die hatte ich nach ihrem Tod schleifen lassen und seither nie benutzt, Ein Maßband aus meiner Sammlung, auch das Handmaß hatte ich doppelt. Eie kleine Stickschere liegt auch noch bei.
Den Combicut Nahttrenner (eine Seite Trenner, die andere Pinzette) und die Schneiderkreide habe ich hingegen neu gekauft. Nur den Fingerhut muß er sich selber kaufen, das geht ohne Größenangaben schlecht…
Damit kann er dann loslegen, wenn er im August die Maschine und das Zubehör bei mir abholt. (Ein Nähbuch habe ich auch noch übrig…)
Of course I also put some basic things in the sewing case: The scissors are from our grandmother. I had them sharpened after her death but never used them. Gauge and tape measure also come from my collection. Small embroidery scissors also come handy.

What I bought for him is the combicut seam ripper (ripper on one side, tweezers on the other) and tailors chalk. A thimble he will have to buy for himself, I don't know his size…

So all basic needs should be fullfilled and he can start after he has the time to fetch his machine from me. (I also found a basic sewing book I do not need myself…)