Small shawl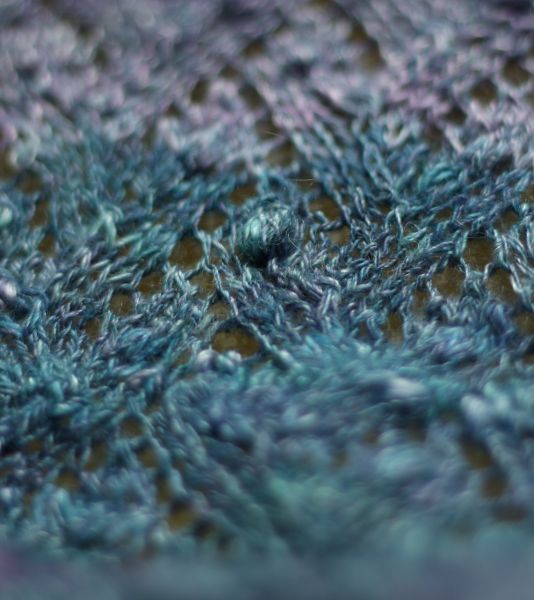 Naja, zumindest für meine Verhältnisse… Die Anleitung für Madlis Shawl von Nancy Bush hatte ich in der deutschen Ausgabe von The Knitter gefunden. Nachdem ich mich in den letzten Jahren kreuz und quer durch die Victorianische Spitze durchestrickt hatte, war die estnische Spitze dann doch wieder Neuland. Nicht nur, daß die Mustergestaltung anders ist, man strickt auch gerne Noppen…
At least for my habits. The pattern for Madlis Shawl by Nancy Bush was in the German issue of The Knitter. After having knitted my way through Victorian Lace over the last years Estonian Lace was interestingly new. The pattern design develops differently and they like nubbs…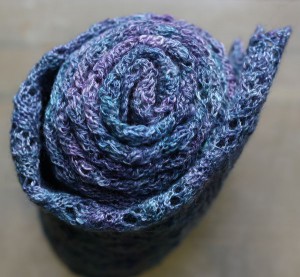 Das Garn hat mir Angelika von Spinn!Webe! in Köln gesponnen, aus einem gefärbten Kamzug Merino und Tencel von Lanapassion. Ich wollte sehr lange Farbeverläufe und gleichzeitig alles etwas "unklar". Dank des Tencels konnte Angelika so dünn spinnen, daß sie das Garn mit sich selber verzwirnen konnte und es dennoch Lacedünn blieb. Die Farbeverläufe sind dadurch noch mal gemischt worden. Was man auf dem Bild nicht erkennt: an manchen Stellen wirkt das Garn grau, wenn man ganz nah hinsieht, wohl weil sich die Komplementärfarben aufheben. Aber dennoch hat es einen deutlichen Farbverlauf und leuchted in der Sonne. Und die Unregelmäßigeiten zeigen einen deutlichen Handspinncharakter.
I had bought spinning fibers from Lanapassion and Angelika from Spinn!Webe! in Cologne did the spinning for me. I wanted very long color runs, yet not really separated colors. The fibers were Merino with Tencel, so Angelika could spinn it very thin and as a 2ply it still made a fine laceweight. And the plying mixed the colors again. What you can not see in the pic: If you look on the yarn from a very short distance it often seems even gray (I guess that has something to do with the magic of complimentary colors), but it has a distinct color variation the same time. And the colors become very bright in sunlight. The irregularities give it the handspun look.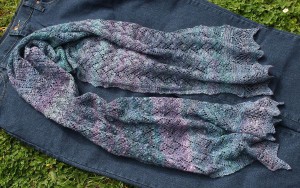 Die Anleitung war im Großen und Ganzen klar, nur brauchte ich 42 statt der angegebenen 31 Rapporte, um auf die richtige Länge zu kommen. In der Breite stimmte es hingegen. Entweder sind meine Stiche mal wieder zu kurz oder das im Original verwendete Garn läßt sich brutaler spannen? Definitiv falsch oder "falsch durch Auslassung" war die Angabe zum Garnverbrauch. Hier werden zwei Knäuel mit einer Lauflänge von je 630m angegeben, was etwa 1200m entspricht. Dafür hätte mein Garn knapp gereicht, ich habe jedoch etwa ein Viertel weniger gebraucht. (Trotz deutlich mehr Reihen.) Auf der Ravelry-Seite wird der Verbrauch dann auch mit 999m angegeben, was wohl realistischer ist.
The instruction were mostly clear. Only I needed 42 repeats instead of 31 to get the right length. (The number of stitches widthwide was okay.) So either the original yarn stretches way more in blocking or my stitches were to short. What was definitely not correct or kind of "wroing by omission" were the invormations about how much yarn was needed. They only say two balls of yarn with 630m each, so a bit more than 1200m. My yarn would have been a bit tight for that, but in the end I had about 1/4 left. (While I had been knitting much more rows.) But on the ravelry pattren page the amount is given with 999m which sounds far more realistic.
Da das Garn nicht sehr fest gezwirnt war, waren die Noppen etwas schwierig zu stricken, selbst mit der feinen Häkelnadel habe ich manchmal einzelne Schlaufen verloren. Aber das Konzept der estnischen Spitze gefällt mir sehr gut, ich vermute mal, mein nächstes Buch mit Lace-Anleitungen dürfte in diese Richtung gehen… So wird es auch nicht langweilig. 🙂
The yarn was not plyed very firmly, so knitting the nubbs was not easy. Even though I was using a fine crochet hook I sometimes lost one of the yarn overs. But I like the general concept of Estonian Lace and I guess my next book with Lace patterns might be something in that direction… So no boredom while knitting. 🙂