Unusual Lace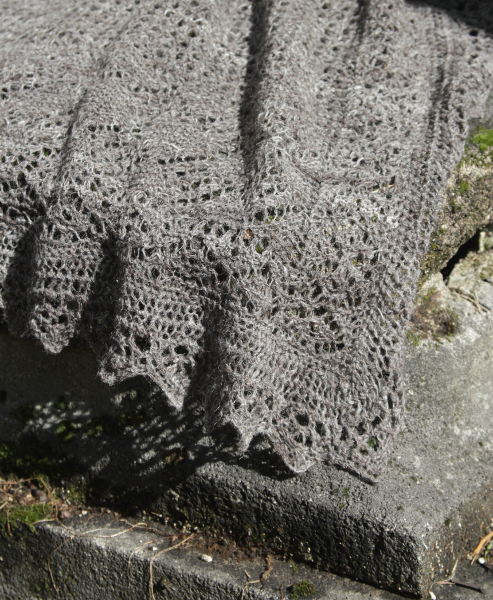 Daß Spitzenmuster nicht mehr mit superfeinen Nadeln gestrickt werden, daran haben wir uns gewöhnt. Die dickeren Nadeln ergeben ja eine spezielle Optik. Aber das Garn ist in der Regel fein und weich.
We got used to it that lace pattern are no longer knitted with super fine needles. The thick needles give a special and attractive look. But usually the yarn is soft and fine.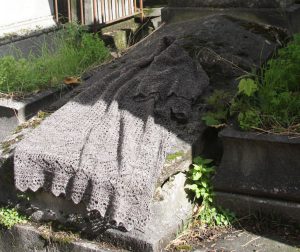 Als ich das Muster "A Knitted Veil in Pyrenees Wool" in "Victorian Lace Today" sah fand ich, daß es irgendwie eine rustikale Optik hat. Und wollte ein natürliches Garn. Basiston grau, aber unregelmäßig und eben nicht grau gefärbt, denn das sieht anders aus. Ich suchte lang und fand nichts.
When I saw the pattern "A Knitted Veil in Pyrenees Wool" in "Victorian Lace Today" I thought it had a kind of rustique look. And it called for a natural yarn. I wanted grey, but irregular, not regularily dyed. I searched for quite some time but didn't find anything that was even close. 
Geholfen hat mir dann mal wieder Angelika, die in ihrer "Spinn"Webe!" Werkstatt Wolle spinnt und auch verkauft. Sie hat auf meinen speziellen Wunsch hin ein Fleece Jakob Schaf mit grau und fast keinem braun besorgt, hat das so fein wie möglich ausgesponnen (das ist nicht so fein wie die typischen Lace Garne, weil die Fasern kürzer sind) und gezwirnt. Was ein herrlich lebendiges Garn ergab, das ich dann mit 3,75 mm Nadel verstrickt habe.
Who helped me was again Angelika who is spinning wool in her atelier "Spinn!Webe!" and also sells it. She suggested Jacob Sheep and was able to organize a fleece in grey with hardly any brown. She spun it as fine as possible (which is not as fine as typical lace yarn because the fibers are not that long) and plyed it. Which makes a very lively yarn which I've knitted with 3.75 mm needles.
Das Ergebnis gefällt mir gut und ist ganz faszinierend. Natürlich ist die Stola nicht sehr weich, sondern etwas kratzig. Um sie auf einen Pulli oder Mantel zu tragen ist das aber in Ordnung. Und die Optik ist wirklich natürlich und rustikal. Was für mich perfekt zum Muster passt, denn es ist auch ein relativ "grobes" Lace Muster, auf einem kraus rechts Grund und mit nicht gespiegelten Musterteilen. Die Stola hat Substanz ist zunächst auch gefaltet sehr dick. – Läßt sich aber (z.B. im Koffer) unglaublich verdichten. Das Garn muß sehr viel Luft enthalten. (Klar, das Jakob Schaf ist etwas gelockt und das kam beim Wässern nach dem Spinnen zum Teil wieder.) Das verspricht Wärme. 🙂
I  love the result and it is very fascinating. Of course the stole is not very soft but more scratchy. Which is fine to wear over a sweater or a jacket. And the look is very natural and rustic. For me the perfect match for the pattern which is also kind of "rustique": The base is garter stitch and the increases and decreases are not mirrored. The shawl has body and folded it is quite thick. – But when for example put in a suitcase it can be pressed very flat. The yarn must contain a lot of air. (Okay, Jacob Sheep is a bit curly and that came partially back when I relaxed the yarn after spinning.) Should by quite warm 🙂

Ich bin sehr glücklich mit dem Projekt. Nach vielen Jahren des Lace Strickens etwas, was doch wieder ganz anders als meine anderen Stolen ist.
I am very happy with the project. After many years of lace knitting something, that is completely different from all my other shawls.