Functionality à la Burda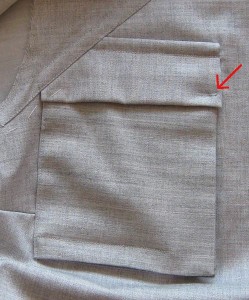 Von der Designerin Andrée Putman habe ich mal in einem Interview den Satz gehört, das Funktionalität überschätzt würde. Und die Burda Designer scheinen sich diesem angeschlossen haben.
Some time ago I've heard in an interview that the designer Andrée Putman said someting like functionality was overrated. Seems the Burdastyle design team agrees with her.
Denn zuerst läßt einen die Anleitung sorgsam vier Blasebalgtaschen nähen. Und am Ende werden sie alle… zugenäht!
Because the instructions have you sew for bellow pockets. And then… you sew them all closed!
Gut, bei den kleinen Brusttaschen (siehe Bild) ist relativ klar, daß man die nicht wirklich benutzen kann (und so direkt über der Brust vielleichgt auch nicht will), aber auch die großen Hüfttaschen werden zugenäht.
Okay, for the smaller breast pockets (see picture) it's relatively clear they will not be fully functional. (And you might not want to use them also, at that position…) But also the big pockets in the hips get sewn shut.
(In diesem Punkt werde ich der Anleitung nicht folgen…. ich will die Taschen nicht vollstopfen, aber zumindest mal schnell ein Taschentuch oder Wechselgeld einstecken zu können ist schon praktisch.)
(Here I will not follow the instructions… I don't want to transport big stuff in the pockets, but being able to store away change or a tissue quickly is very useful.)