Indian crafters (part 2)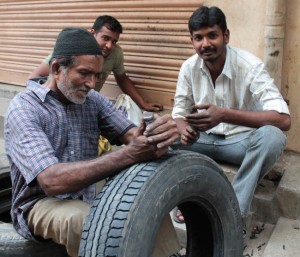 Aber handgemacht werden in Indien noch ganz andere Sachen…
But handmade extents to other things also in India…
Runderneuerte Reifen? Aber natürlich, ist das Profil abgefahren wird liebevoll ein frisches hineingeschnitzt. Der Größe nach dürften das LKW Reifen sein… "Sicherheit im Straßenverkehr" definiert sich in Indien ein wenig anders…
No profile on old tires? No problem, a new one gets handcarved into the old tire. Regarding the size those might be truck tires… "Road Security" in India has different standards…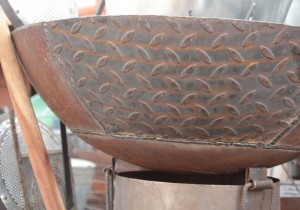 Der Einfallsreichtum in Indien beeindruckt mich auch immer. Man erkennt doch deutlich, daß es die Kreativität fördert, wenn man nicht unbegrenzt Rohstoffe zur Verfügung hat.
I am always amazed by the creativity in India. Having less resources available evidently helps to produce interesting results.
Das Bild zeigt ein Kochgeschirr und ich finde das Gerstenkornblech das in den Topf mit verschweißt wurde sieht wirklich attraktiv aus.
The pic shows a cooking set and the patterned metal sheet that has been used to make the pot creates and attractive design.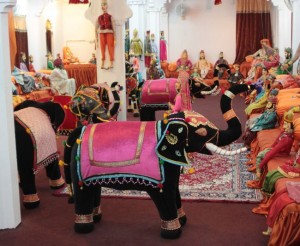 Aber bevor ihr es langweilig wird… hier kommt wieder was Textiles.
Before you get bored… here is more textile stuff.
Diese Puppenausstellung hat (so sagte er zumindest) ein einziger Mann geschaffen. (Er sitzt auch im Hintergrund des Bildes.) Das war einfach unglaublich, so viele Puppen in prächtigen Gewändern, Elefanten, Pferde, Dromedare… eine höfische Szene wie aus einem Märchen aus tausend und einer Nacht.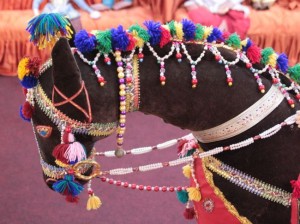 All those dolls were made by one man. (He is visible in the background of the picture.) It was so unbelievable… so many dolls in richely decorated clothes, elephants, horses, dromedars,.. a court scene like in stories from 1001 nights.
Dieser Detailreichtum… Bänder, Perlen, Pompoms… wunderschön, oder? (Leider paßt es weder ins Fluggepäck noch in die Wohnung. Sonst hätte ich so einen Elephanten mitgenommen…)
All those details… braids, beads, pompoms… so beautiful, isn't it? (It neither fitted the luggage nor my appartment, elseway I'd taken one of the elephants with me…)