Winning over self stripeing yarn!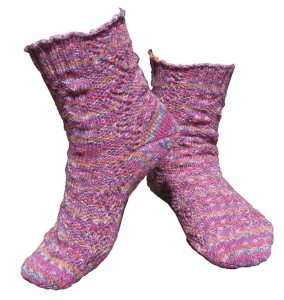 Gut, wenn man sehr viel Muster macht, dann sieht man es auch auf selbstmusterndem Garn. Gewonnen!
Okay, If you go really heavy on pattern then it remains visible even on self striping yarn. I've won!
Das Garn ist diesmal Sockengarn mit Baumwolle von Bärengarne und heißt "TOM Cotton". Deswegen habe ich mich für ein luftiges Muster mit Lochmusterstreifen entschieden. Für unseren kühlen Sommer gerade richtig.
The yarn is a sock yarn with cotton from Bärengaren, called "TOM Cotton". So I decided for a more airy pattern with a bit of lace. Just right for this year's summer.