I love swapping…
… oder "Man muß nicht alles selber können". 🙂
… or "You needn't be able to do everything yourself". 🙂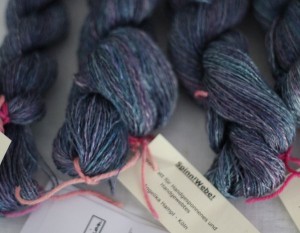 Auf dem Ravelry Treffen 2013 in Köln habe ich mir zwei schöne Kammzüge von Lana Passion (Merino/ Tencel) gegönnt.
On the 2013 Ravelry Meeting in Cologne I've purchased fiber from Lana Passion (Merino/Tencel).
Nun gibt es zwei Arten, wie ich "buntes" Garn mag, entweder als seeeehr langen Farbverlauf oder ganz "durchmischt". Beides findet man aber als feines Lace Garn nicht in so wahnsinnig großer Auswahl (und wenn, dann nicht in Farben, die mir gefallen.)
Now there are two ways I like "multicolor" yarn, either with veeeery long color runs or completely "mixed" so you have no real pattern at all. Both is not so easily available as lace yarn. (And if, the not in colors I like.)
Jetzt kann ich aber nicht wirklich spinnen und schon gar nicht so fein, da trifft es sich gut, daß Angelika gerade ihre Spinn- und Web-Werkstatt "Spinn!Webe!" angemeldet hat und meinen "Auftrag" entgegen genommen hat. Im Austausch gegen einige Tage Paris mit persönlicher Führung durch mich an alle möglichen textil-interessanten Orte. Irgendwie habe ich das Gefühl, ich habe hier den besseren Schnitt gemacht… 😉
Now my spinning abilites are not very good not to talk about spinning lace. So it is great that Angelika just started her spinning and weaving business "Spinn!Webe!" and took my "job". Swapping against some days in Paris with myself as a guide to a lot of interesting places for textile lovers. Somehow I think it's me who got out more of the swap… 😉
Ich freue mich schon drauf, das Garn zu verstricken. Es ist fester gesponnen als Lace-Garne meistens und das Gestrick sollte somit eine schöne Definition bekommen. Wie es sich verhält, wenn es mal nass war, wird auch spannend… Die ersten Maschenproben sind schon auf der Nadel!
I am looking forward knitting it. It is tighter spun than most lace yarns are and should give a nice definition to the stitches and the pattern. It will also be thrilling how the yarn will behave once it will be relaxed in water… The first swatches are already on the needle!